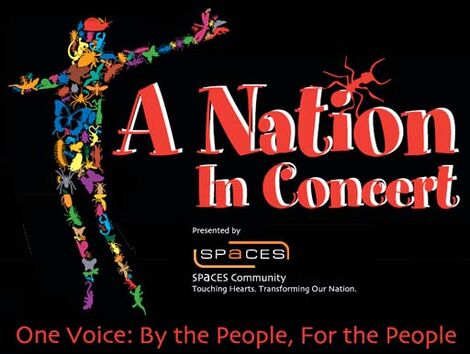 In August 2005, SPACES, a private, non-profit counselling and development agency, organised an event entitled "A Nation In Concert" [1] in aid of the Association for Persons with Special Needs, the Handicaps Welfare Association, the Singapore Association for the Deaf, the Singapore Association of the Visually Handicapped and the Community Chest of Singapore.
A Nation In Concert 2006
Edit
A Nation In Concert 2008
Edit
A Nation In Concert 2014
Edit
A Nation In Concert (ANIC) 2014: A Wetlands Adventure is a musical extravaganza about overcoming adversity, conquering prejudice, building bridges and discovering the meaning of community. It offers a timely message in these intolerant time.
As before, ANIC brings together theatre practitioners and social activists to share the stage (and the creative process) with talented volunteers who are differently-abled but are all gifted performers! Together, we will sing and dance and perform our hearts out, rejoicing in the unifying human spirit.
Since its very inception in 2005, ANIC has been about empowerment through our shows in 2005, 2006 and 2008. It looks at the differently-abled (we never see them as disabled) as a source of inspiration to the whole community, reminding us to celebrate the things which make us unique, embrace what is special about each other, and rejoice in the talents we have been born with.
Presented by the Rotary Club of Pandan Valley
Director: Jonathan Lim
Playwright: Desmond Sim
Multimedia Designer: Genevieve Peck
Soundscape Designer: Sandra Tay
Music Director: Julian Wong
Lighting Designer: Yeo Hon Beng
Set Designer: Clement Perdana (Kingsmen)
Make-up Designer: Eric Tan (PaletteInc)
Fashion Designer: Louis Francis Ler (Amor Meus)
Costume Designer: Betty Png (Masquerade)
The wetlands of Sungei Buloh have always been a multi-cultural and multi-species community. Water-dwellers swim with amphibians, popping up for air alongside land-dwellers. And once a year, the inhabitants celebrate Save the Swamp Day with a variety concert! Three self-absorbed youngsters – the Otter, the 'Mat'skipper and the Hermit Crab – are making excuses not to contribute to the concert, remaining aloof despite pleas for help from various groups. Suddenly, shocking news arrives! The Migratory Birds – foreigners who only linger here briefly - are planning their own concert on the same day!
Led by the Milky Stork and her fashionista sidekicks, these flighty folk's plans outrage the locals. Amid spying and espionage between the two camps, the three youngsters continue to stay aloof from either side. But nature has other plans for them. A tsunami rages toward the swamp, threatening to sweep all the denizens away and destroy their homes. Will the creatures be able to overcome their prejudices to help each other survive? And will our 3 youngsters - separated and stranded – survive this disaster on their own?
References
Edit
Acknowlegdements
Edit
This article was written by Roy Tan.