Akka (அக்கா; literally "elder sister"; also slang for transgender woman) was the first and only queer-themed Singaporean Tamil play of the 20th century. It was written and directed by G Selvanathan (Selva for short).
Impetus for play
[
]
Selva had just completed National Service and was walking down Serangoon Road in the vicinity of Desker Road when a friend asked him, "Why wouldn't you want to do a drama about people like us?" This led him to create Akka in 1991, a theatre production about a Tamil transwoman based on conversations and interviews with members of the community. He was not supposed to play the lead initially, but his actor backed out at the last minute because his mother had threatened to jump out of the window and commit suicide if he assumed the role of a transwoman on stage.
The work was presented at The Substation as part of Fourplay, a quadruple bill of short Tamil plays by Ravindran Drama Group. All the works dealt with social issues, so it was not actually all that shocking. Many people were deeply moved. Selva's dance teacher's husband, a big masculine middle-aged man even wept. The transwomen he had interviewed attended and appreciated it too.
There was extensive press coverage and the censors did not cause any trouble. The National Arts Council (NAC) did, but Selva could not remember exactly what it was. The thing that hurt him, however, was when the Singapore Broadcasting Corporation (SBC) decided to telecast all the plays in the production except for his. It did not matter that theatre audiences accepted it. Transgender lives were not an appropriate topic for television.
Surprisingly, there were no queer-themed Tamil plays after that until writer Ng Yi-Sheng approached Selva to restage Akka as a reading in 2013 with actual transgender actors. This further led to full stagings and sequels from 2014 to 2016. The reason why Selva did not write more was because of the ominous suicide threat. He dared not produce additional queer work knowing it could have that kind of effect on theatre practitioners' families.
Staged reading
[
]
On Friday, 23 August 2013 at 8pm, Akka was back for two sessions of a one-night-only staged reading by its original director and playwright, G Selvanathan. It was organised by theatre company Avant Theatre & Language and LGBT advocacy group The Purple Alliance. The even was hosted by Ng Yi-Sheng at the gay-owned café-cum-exhibition and performance venue Artistry along Jalan Pinang.
The reading was conceptualised, written and directed by G Selvanathan, and performed by Suresh Subash and Sonia Pravinaa Gsamy. Live music support was provided by Madhavan Andhisveena. The reading was in Tamil with English surtitles. It was listed as one of the events of IndigNation 2013.

A post-reading discussion included panelists Dr Ward William Keeler (University of Texas), Vanessa Ho (Project X), Sonia (actress, transgender representative), G Selvanathan (director), Tricia Leong (transgender activist) and Sandhya (transgender representative)[2],[3],[4],[5],[6].
Commemorative photos were archived by co-organisers The Purple Alliance on the event's Facebook page:[7].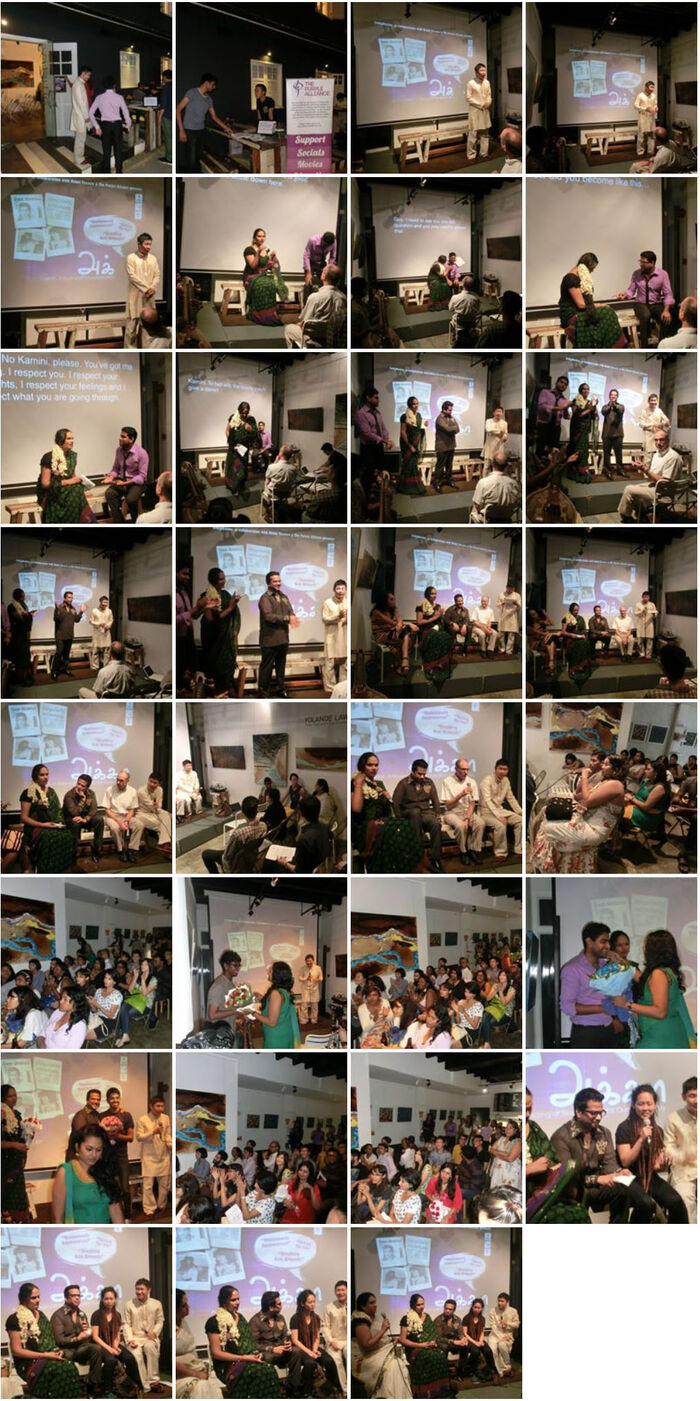 Akka - The End
[
]
In July 2014, Avant Theatre produced a sizzling, stylish and glamorous sequel to Akka, entitling it, Akka - The End. It proudly introduced Pravinaa (Sonia), Sandhya, Sharmila Priya, Shalini, Dhivithra and Amy. Living real lives as transgender people, they were also debuting as actors to tell their stories to the general public.
A behind-the-scenes teaser was uploaded to YouTube by the Avant Theatre[8]:
Only 3 exclusive shows were staged. Tickets were available online at Peatix: http://avanttheatreakka.peatix.com/
Show details
[
]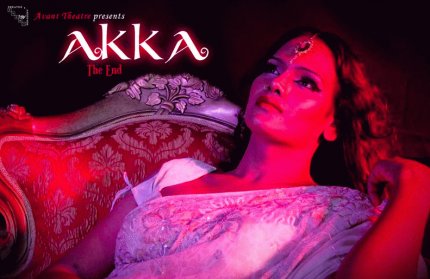 Synopsis
[
]
With Kamini walking out on society in the first instalment, we wonder: What happened to Kamini after that fateful meeting? Did she manage to live the life she wanted? Or did she continue down the downward path of degradation?
Akka - The End is a poignant display of the plight of many transgender women who end up choosing the not-so conventional paths in their lives.
See what SHE sees, Feel what SHE feels. This is the story of HER.
Akka 3
[
]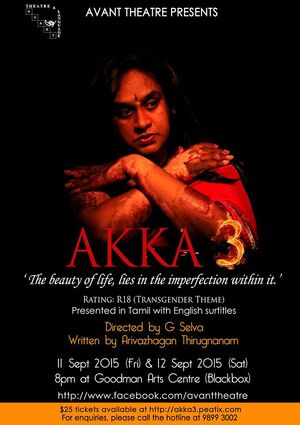 Following the critical success of Akka in 1991 and Akka - The End in 2014, Avant Theatre presented the next exciting installment, Akka 3 during IndigNation 2015. The play was directed by G Selvanathan and written by Arivazhagan Thirugnanam.
It was held on Friday 11 and Saturday 12 September 2015 at 8pm at Goodman Arts Centre Black Box, 90 Goodman Road, Singapore 439053.
"The beauty of life lies in the imperfections within..."
The Akka series focused on exploring the plight of Indian transgender women in Singapore and the trials and tribulations they underwent to uphold their identity against social prejudice.
It was presented in Tamil with English surtitles and rated R18 (transgender theme). Tickets were available online at Peatix:[10]. Patrons with ticketing enquiries were advised to call 9899 3002.

A teaser for the new play was again produced by Avant Theatre[11]: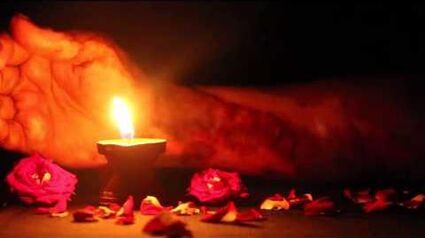 See also
[
]
References
[
]
Acknowledgements
[
]
This article was written by Roy Tan.