Screen capture of article
[
]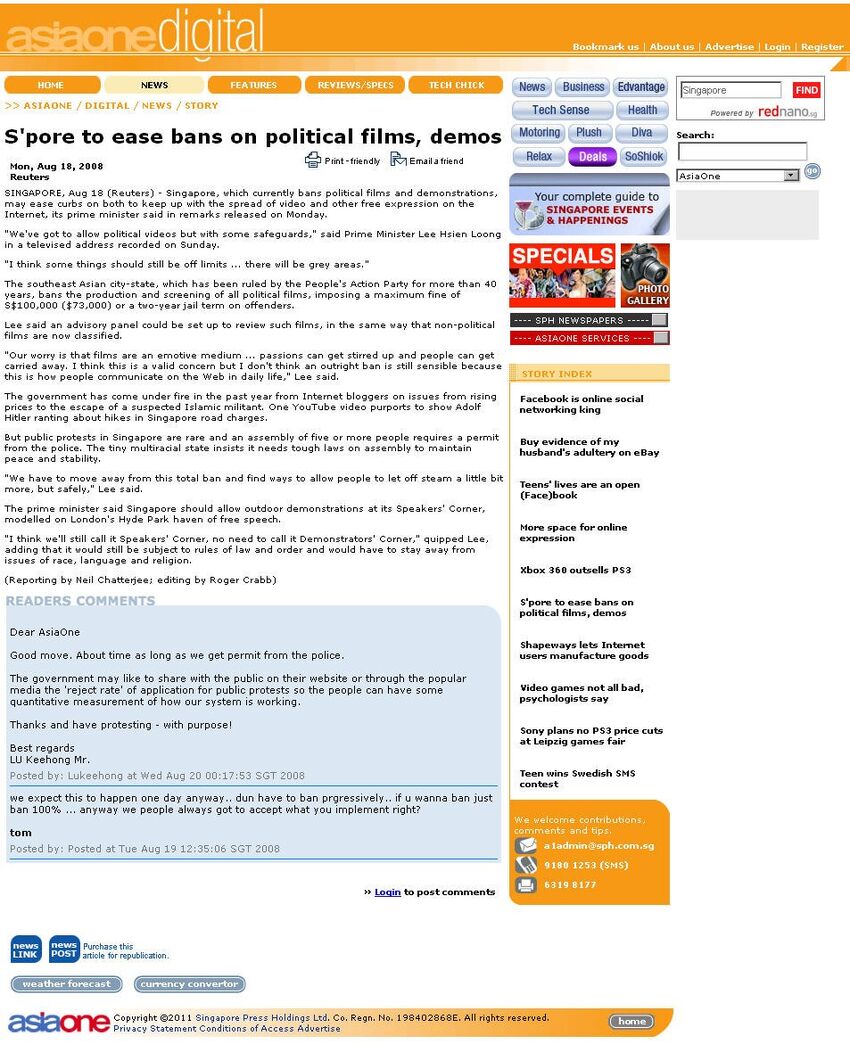 Editable text of article
[
]
S'pore to ease bans on political films, demos
Mon, Aug 18, 2008
Reuters
SINGAPORE, Aug 18 (Reuters) – Singapore, which currently bans political films and demonstrations, may ease curbs on both to keep up with the spread of video and other free expression on the Internet, its prime minister said in remarks released on Monday.
"We've got to allow political videos but with some safeguards," said Prime Minister Lee Hsien Loong in a televised address recorded on Sunday.
"I think some things should still be off limits … there will be grey areas." The southeast Asian city-state, which has been ruled by the People's Action Party for more than 40 years, bans the production and screening of all political films, imposing a maximum fine of S$100,000 ($73,000) or a two-year jail term on offenders.
Lee said an advisory panel could be set up to review such films, in the same way that non-political films are now classified.
"Our worry is that films are an emotive medium … passions can get stirred up and people can get carried away. I think this is a valid concern but I don't think an outright ban is still sensible because this is how people communicate on the Web in daily life," Lee said.
The government has come under fire in the past year from Internet bloggers on issues from rising prices to the escape of a suspected Islamic militant. One YouTube video purports to show Adolf Hitler ranting about hikes in Singapore road charges.
But public protests in Singapore are rare and an assembly of five or more people requires a permit from the police. The tiny multiracial state insists it needs tough laws on assembly to maintain peace and stability.
"We have to move away from this total ban and find ways to allow people to let off steam a little bit more, but safely," Lee said.
The prime minister said Singapore should allow outdoor demonstrations at its Speakers' Corner, modelled on London's Hyde Park haven of free speech.
"I think we'll still call it Speakers' Corner, no need to call it Demonstrators' Corner," quipped Lee, adding that it would still be subject to rules of law and order and would have to stay away from issues of race, language and religion.
(Reporting by Neil Chatterjee; editing by Roger Crabb)

See also
[
]
References
[
]
This article was originally found at the following URL: http://digital.asiaone.com/Digital/News/Story/A1Story20080818-82993.html