Screen capture of article
[
]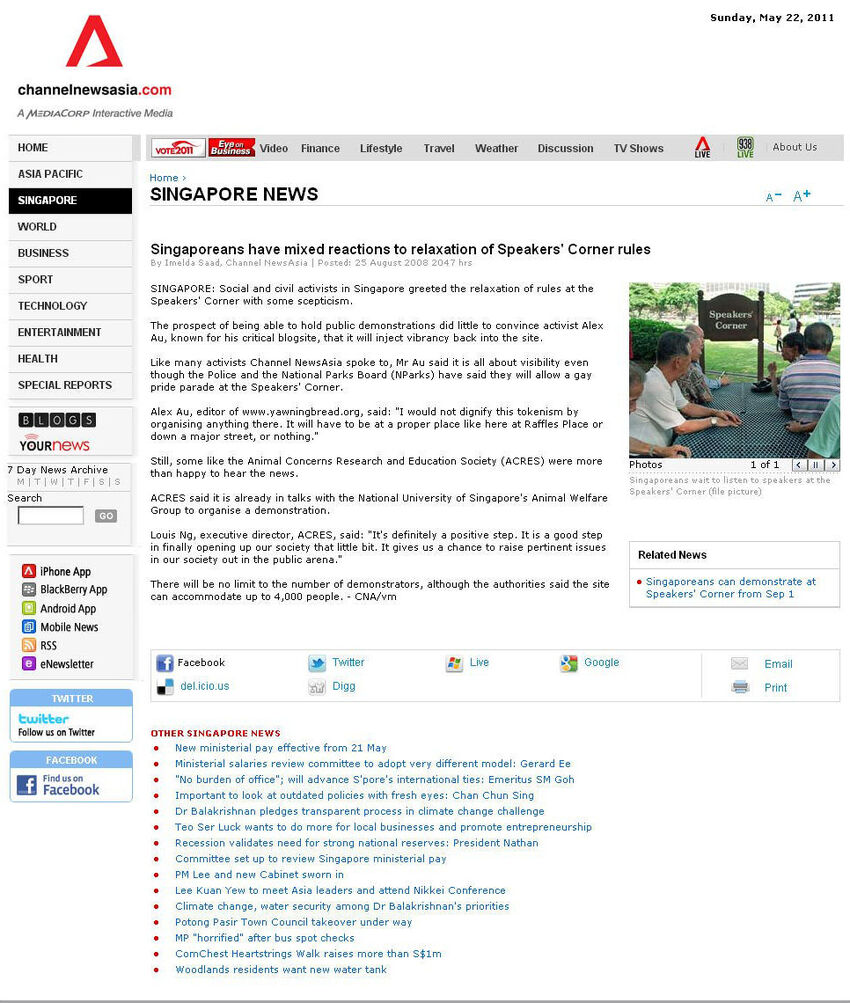 Editable text of article
[
]
Singaporeans have mixed reactions to relaxation of Speakers' Corner rules
By Imelda Saad, Channel News Asia
Posted: 25 August 2008
Photo: Singaporeans wait to listen to speakers at the Speakers' Corner.
SINGAPORE: Social and civil activists in Singapore greeted the relaxation of rules at the Speakers' Corner with some scepticism.
The prospect of being able to hold public demonstrations did little to convince activist Alex Au, known for his critical blogsite, that it will inject vibrancy back into the site.
Like many activists Channel NewsAsia spoke to, Mr Au said it is all about visibility even though the Police and the National Parks Board (NParks) have said they will allow a gay pride parade at the Speakers' Corner.
Alex Au, editor of yawningbread.com, said: "I would not dignify this tokenism by organising anything there. It will have to be at a proper place like here at Raffles Place or down a major street, or nothing."
Still, some like the Animal Concerns Research and Education Society (ACRES) were more than happy to hear the news.
ACRES said it is already in talks with the National University of Singapore's Animal Welfare Group to organise a demonstration.
Louis Ng, executive director, ACRES, said: "It's definitely a positive step. It is a good step in finally opening up our society that little bit. It gives us a chance to raise pertinent issues in our society out in the public arena."
There will be no limit to the number of demonstrators, although the authorities said the site can accommodate up to 4,000 people.
See also
[
]
References
[
]