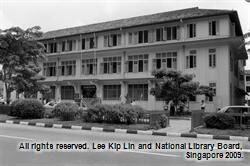 The former Beach Road Police Station, also called the Central Police Station, is a conserved building which sits on a site that attracted a record (per square foot per plot ratio basis) winning bid of $1,706 psf ppr ($1.622 billion) during a land sale exercise in the mid-2010s.
The site also contains two barrack blocks built in 1934 as part of the original police station complex. These, built with the features of the British tropical barrack designs of the era, will possibly be demolished as they are not conserved structures. Guocoland, who submitted the winning bid, aims to develop the site as a city centre "work-live-play destination".
Guided visit by SLA and Jerome Lim
[
]
State properties under the custodianship of the Singapore Land Authority (SLA) are rich in history; some played integral roles in Singapore's nation building while others invoke a sense of personal nostalgia. It is therefore understandable that these heritage-rich properties continue to fascinate many, be it the older generation seeking to connect with their younger days or those from the younger generation looking for inspiration from a bygone era.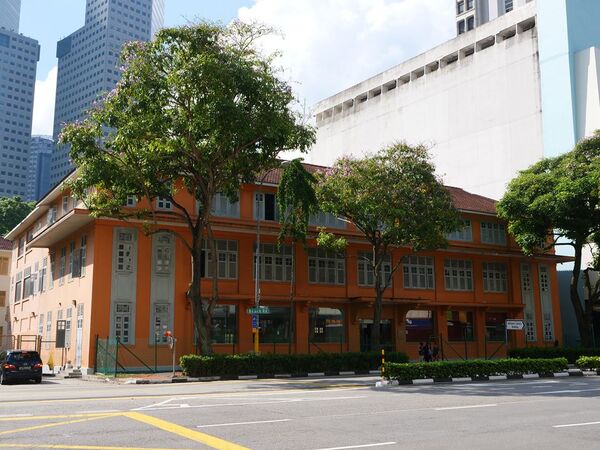 It is with this in mind that the SLA collaborated with heritage archiver Jerome Lim, author of The Long and Winding Road blog, to launch a first-of-its-kind series of guided visits to historic State properties. The series, "Discovering Singapore's Best Kept Secrets" showcased many of these heritage properties which are hidden within plain sight, as they could be easily overlooked amongst swankier modern developments.
The visits were led by Lim and covered eight State properties including the Old Kallang Airport, former Central Police Station and the Adam Park Estate.
Participants were given rare and exclusive access to these sites and an introduction to the State properties by Lim on their historical and architectural significance.
"Discovering Singapore's Best Kept Secrets" kicked off on Saturday, 29 July 2017 with a visit to Singapore's second power station after St James Power Station - Pasir Panjang Power Station A (PPPS) with more than 30 participants.
Lim, in his sixth Singapore Land Authority (SLA)-supported series of guided State Property visits, "Discovering Singapore's Best Kept Secrets", wrote an article (see below) on the former Beach Road Police Station.
The details of the visit were as follows: Date : 7 October 2017 Time : 10 am to 12 noon Address: 99 Beach Road Singapore 189701
The size of the group for the visit was limited to 30 and registration was required. Participants were required to register by filling in the following form: https://goo.gl/forms/kDn5piD8NglKGH1W2
Lim expressed gratitude to the Singapore Police Force and Singapore Land Authority for making arrangements to have Philip Xavier, a retired policeman who was based at the station in the 1970s, share his experiences with the participants.
Historical background
[
]
The station and two barrack buildings were completed in 1934 at the tail end of a decade of reorganisation for the police force. The efforts also saw the establishment of a Police Training School at Thomson – the old Police Academy, as well as the construction of new stations and living quarters across Singapore, in the face of a relative state of disorder that had prompted comparisons between the "cesspool of iniquity" that was Singapore, a.k.a. Sin-galore, and Chicago.
The complex was a replacement for an earlier station, which had been located further east along Beach Road at Clyde Terrace and was built at a cost of $319,743. The barracks provided quarters for 64 married man in one of its three storey blocks. 80 single men and NCOs were also accommodated in another three storey singlemen's block in which a mess and recreation room was also arranged on the ground floor. The three storey main station building, described at the point of its construction as being of a "pretentious type", also had quarters – for two European and two "Asiatic" Inspectors – on its second and third levels. Its ground floor contained offices, a guard room, an armoury and a number of stores. A cell block – the lock-up – was also arranged "behind the guardroom", "approached from it by a covered way".
The station would play a part in a series of tumultuous events that followed its completion. A hundred or so Japanese "aliens" were held in it at the outbreak of war on 8 December, before they were moved to Changi Prison. This was a scene would repeat itself after Singapore's fall. The station was used as a holding facility for different ethnic groups of civilians including Jews, individuals of various European backgrounds and nationalities, and also members of the Chinese and Indian community, before internment in Changi.
Beach Road Police Station also found itself in the thick of action during the Maria Hertogh riots in 1950, when policemen from the station were sent to quell disturbances in nearby Kampong Glam – only to have the men involved retreat into the station, along with scores of civilians, for safety.
The station served as the Police 'C' Division headquarters until May 1988, when that moved into new premises at Geylang Police Station on Paya Lebar Road. The Central Police Division headquarters moved in to the station in November 1992 and used it until 2001 when that moved into the newly completed Cantonment Police Complex. The decommissioned former station was also used by the Raffles Design Institute for some six years. Two sets of quarters, added on an adjoining piece of land – two four storey blocks in the 1950s and a 12 storey block in 1970 – have since been demolished.
The station complex sits on a 2 hectare reserve site that is now the subject of a Government land sales tender exercise and as the successful developer will have the option of demolishing the two barrack blocks as part of the redevelopment, this may be a last opportunity to see the complex as it is. The main station building itself has been conserved since 2002 and will be retained.
Beach Road Police Station in Singapore gay history
[
]
Main article: Rascals incident
See also
[
]
References
[
]
Jerome Lim

, "Discovering Singapore's Best Kept Secrets: Beach Road Police Station and Barracks", "The Long and Winding Road" blog, Wordpress, 22 September 2017[1].
Jerome Lim, "Album: A last look at Beach Road Police Barracks", The Long and Winding Road's Facebook page, October 2017[2].
Cheryl Lim, ""Discovering Singapore's Best Kept Secrets"", LAND, Singapore Land Authority, September 2017[3].
Singapore Land Authority, "Album: Discovering SG's Best Kept Secrets - Beach Road Police Station", Singapore Land Authority's Facebook page, 7 October 2017[4].
Simone Lee's video, Commentary by retired policeman, Philip Xavier, who was stationed at Beach Road, then 'C' Division HQ, in the 1970s. Xavier describes a small room, in one of two 1934-built barrack blocks that were part of the original station construction, used as a resting room for policemen in between shifts, The Long and Winding Road's Facebook page, 9 October 2017[5].
Acknowledgements
[
]
This article was compiled by Roy Tan.