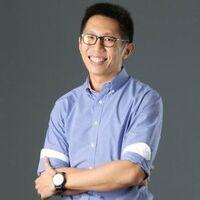 Dominic Chua is an educator who specialises in branding and identity, as well as copywriting with a youth/educational focus. He is also a poet who helped organise ContraDiction, the LGBT literary event of IndigNation, Singapore's LGBT pride month, during its early years.
He graduated in 1999 from the National University of Singapore with a Bachelor of Arts (B.A.) degree in English language and literature.
Since March 2012, Chua, an alumnus of Raffles Institution (RI) and Raffles Junior College (RJC) has co-headed a team of 8 communications professionals, who collectively handle his alma mater's branding and aesthetics, as well as its communications needs. His team also liaised with the Old Rafflesians' Association and other RI-related alumni groups and individuals.
In 2018, he took an extended hiatus from work to pursue his second B.A., this time in Buddhist Studies at Rangjung Yeshe Institute in Kathmandu, Nepal.
Chua was one of the personalities featured in the 2006 book SQ21: Singapore queers in the 21st century by Ng Yi-Sheng.

In the mid-2000s, together with J. Koh, he co-founded plu.edu.sg[1], a group for gay, lesbian and bisexual educators and supportive colleagues, comprising Singaporean or Singapore-based teachers and educators from a whole range of institutions and backgrounds. They offered support to their members through regular meetings and social events. Their long-term mission was to achieve a situation in Singapore schools in which each member of every school community is valued and respected regardless of sexual orientation or gender identity/expression. Gay teachers who were interested in joining this group could apply to join via e-mail at plu.edu.sg@gmail.com. The group ceased functioning towards the end of the 2000s.
In 2009, Chua, an active contributor to SiGNeL, the Singapore gay news list, was instrumental in helping Roy Tan solicit stakeholders for the organisation of the inaugural Pink Dot event at Speakers' Corner, Hong Lim Park.

See also
[
]
References
[
]
Acknowledgements
[
]
This article was written by Roy Tan.