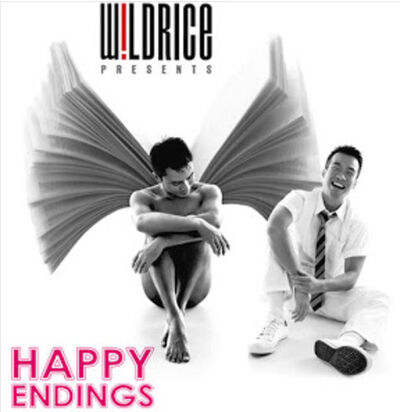 Happy Endings, Asian Boys Vol 3 was a gay play and the final instalment of W!ld Rice's Asian Boys Trilogy, staged seven years after its first introduction to the Singapore stage. It opened on 11 July 2007 at the National Library's Drama Centre Theatre.
Adapted for the stage by multiple award-winning author, poet and playwright, Alfian Sa'at, Happy Endings attempted to address social attitudes towards some of the most pressing issues of the day. Based on Johann S. Lee's Peculiar Chris, Singapore's first gay novel, Happy Endings' arrival to the theatre scene came in the midst of a public debate concerning the decriminalisation of homosexuality, raising issues regarding the place of morality and equal rights in a developing society. The staging of Happy Endings came at an apt time, providing a timely occasion for reflection, provocation and debate.
Directed by W!ld Rice's founding artistic director, Ivan Heng, Happy Endings presented a remarkable cast comprising Singapore theatre's emerging young talents alongside long time collaborators Karen Tan, Lim Kay Siu, and Robin Goh. Introducing Ben Xiao as Chris, Timothy Nga as Kenneth and Koey Foo as Nicholas, Happy Endings promised to be an unforgettable journey that would set the audience's mind ablaze.

Storyline
[
]
1992. In their final year at Junior College, Christopher Han and his best friends – Sylvia, Kenneth and Nicholas, discover the ecstasy and pain of falling in love. Later, while serving his National Service, Chris has a relationship with his army officer, Samuel, before leaving for London for further studies.
2007. After 15 years abroad, Chris returns to a Singapore that he barely recognises. The city has become a veritable gay wonderland, while repressive attitudes remain as entrenched as ever. Sylvia has become part of the leading vanguard for change. Kenneth has renounced his past, refashioning himself as a voice for conservatism. And Nicholas is partying like there's no tomorrow...
Haunted by the ghosts of the past, and yet enchanted by the spectres of the present, Chris is torn between nostalgia for a more innocent decade, and hope for a wiser future. Timely, urgent, joyful and moving, Happy Endings asks what it means for a society to come of age.
See also
[
]
References
[
]
Acknowledgements
[
]
This article was written by Roy Tan.