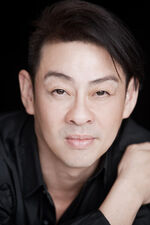 Ivan Heng (王愛仁; Wáng Àirén[1],[2],[3] born 20 September 1963) is a Singaporean actor and theatre director of Hokkien and Peranakan descent. He is the founding artistic director of W!LD RICE, a theatre company in Singapore, and an outspoken advocate for respect for diversity and freedom of expression.
Heng was the first male Singaporean actor to break into English-speaking roles in Hollywood films with his role in Luc Besson's The Fifth Element[4], the first female actress from Singapore being Lydia Look, who played a Fuzhou actress in a Jackie Chan Hollywood film.
Heng was educated at Anglo-Chinese School, Temasek Junior College and the National University of Singapore, where he read law between 1984 and 1988. He was a qualified lawyer until the acting bug led him to win various theatre awards in Edinburgh, London, Canada and finally Hollywood.[1] Heng was awarded the Cultural Medallion, Singapore's highest arts honour, in 2013.[2]

Biography
[
]
A theatre director, actor, playwright and designer, Heng's productions are concerned with identity, migration and gender and sexual politics within intercultural contexts. They have played festivals and theatres in more than 20 cities around the world including Melbourne International Arts Festival, New Zealand International Arts Festival, Edinburgh Fringe, ICA International Festival of the Chinese Diaspora (London), Hong Kong City Festival, Royal Tropical Institute (Netherlands), SIETAR Congress (Munich), WOTM Conference (Belgium) and Re:Map Festival (Copenhagen).[1]
Heng's background is in both Asian and Western theatre traditions: training as a director with Kuo Pao Kun of Practice Performing Arts in Singapore; ballet, jazz and contemporary dance as a scholar with Dance Arts Singapore; and training with the Peking Opera in Hong Kong (Hong Kong Tang's Opera Troupe) and Singapore (Leling Peking Opera Troupe, Chinese Theatre Circle). He also spent a summer at the British American Drama Academy in Oxford. His mentor, colleague and closest collaborator was Krishen Jit with whom he collaborated on M. Butterfly, The Coffin is too Big for the Hole, No Parking on Odd Days, Emily of Emerald Hill and The Visit of the Tai tai.[1]
Early years
[
]
Whilst studying for his law degree, Heng attended Kuo's directing workshop, acted with Singapore Theatre American Repertory Showcase (S*TARS), and directed and designed sets as a founding member of The Necessary Stage.[1]
Heng originated the lead role of Malcolm Png in Michael Chiang's Army Daze in 1987. He also played Frankie Wong in Beauty World, and Song Liling in the All-Asian premiere of M. Butterfly in India in 1989 (a role originated on the West End by his future collaborator Glen Goei). Heng also performed in M. Butterfly at the Singapore Arts Festival in 1990.[1]
Overseas work
[
]
In 1990, Heng became the first recipient of the BAT Arts Scholarship to the Royal Scottish Academy of Music and Drama (Glasgow). He graduated with top honours, including the Royal Lyceum Theatre Award for Best Shakespearean Performance (Richard III), the Margaret Gordon Award for Best Final Year Performance, and the Dorothy Innes Prize for Best Studentship.[1]
Heng made his UK directorial debut at the Edinburgh Fringe Festival with a Singaporean play – Ovidia Yu's The Woman in a Tree on the Hill. The production won the Scotsman Edinburgh Fringe First (Singapore's first and only), as well the Scottish Daily Express New Names of '93 Award. Thereafter, he moved to London where he worked in film, television and radio, and founded the Tripitaka Theatre Company to do touring productions with an Asian point of view, like his autobiographical solo Journey West (1995).[3]
Return to Singapore
[
]
In 1998, after touring extensively throughout Europe, Heng decided to return to Singapore to contribute and make a difference to Singapore's nascent arts scene.[1]
In 2000, Heng founded W!LD RICE. His projects for the company include directing The Campaign to Confer the Public Service Star on JBJ, Second Link – The Singapore Malaysia Text Exchange, Oi! Sleeping Beauty!!, The Visit of the Tai Tai, Landmarks – Asian Boys Vol.2, Cinderel-lah!, Animal Farm, Ang Tau Mui, The Woman in A Tree on the Hill, An Occasional Orchid; set designing The Magic Fundoshi, Boeing Boeing, Landmarks, Ang Tau Mui, Animal Farm, An Occasional Orchid, and Kuo Pao Kun's The Coffin is too Big for the Hole and No Parking on Odd Days; and acting in The Visit of the Tai Tai, For the Pleasure of Seeing Her Again, Emily of Emerald Hill, Animal Farm, La Cage Aux Folles and The Importance of Being Earnest.[1]
Other highlights of his career include acting in Army Daze, Beauty World (both original casts) and M. Butterfly (India, Canada, Singapore); conceiving and directing Ah Kong's Birthday Party (Singapore's longest-running play); directing Dim Sum Dollies Steaming! and Singapore's Most Wanted (Esplanade Theatre), Phua Chu Kang: the Musical for the President of Singapore's Star Charity, Puccini's Madama Butterfly for the Singapore Lyric Opera (Esplanade Theatre), and co-directing and performing in Hotel Grand Asia, a three-year intercultural collaboration involving 16 theatre artists from seven cities at the Setagaya Public Theatre in Tokyo.[1]
In 2006, Heng was Artistic Director of the inaugural Singapore Theatre Festival, which was presented by W!LD RICE and featured nine productions by five theatre companies, including five World Premieres, seminars and workshops. In 2009, he served as Creative Director for Singapore's National Day Parade.[4] In 2010, he was Creative Director for the Opening and Closing Ceremonies of the inaugural Youth Olympic Games held in Singapore.
Heng's awards for excellence in theatre include the Edinburgh Fringe First, Scottish Daily Express New Names of '93 Award, Edinburgh Spirit of the Fringe 1995, Singapore Young Artist Award 1996, the Singapore Youth Award 1998, the Straits Times Life! Theatre Award for Best Director 2002, the Singapore Tatler Leadership Award for Culture (2006) and the Cultural Medallion in 2013.[1]
He shares his practice by giving workshops internationally, and has taught at the Central School of Speech and Drama (London), Tramway (Glasgow), Intercult (Stockholm), Kannonhallen (Denmark), Dramalab (Kuala Lumpur, Malaysia), and LASALLE College of the Arts in Singapore. He was also a participant at London's Royal Court Theatre 10th International Summer Residency.[1]
Marriage
[
]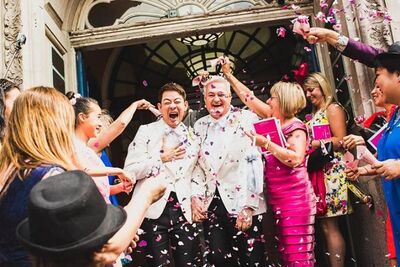 On Friday, 1 August 2014, Heng, then 50 years of age, married his long-time partner Tony Trickett, then 57 and Wild Rice's executive director, in a ceremony in London. They tied the knot at the Chelsea Old Town Hall on the 18th anniversary of the day they met and fell in love. According to Heng, it was a perfect British summer's day, memorable in every way. The couple were immensely moved and overwhelmed by the messages of love and congratulations from everyone. After the wedding, they headed to Tuscany in Italy for a few days' holiday.
Heng announced the good tidings in a lengthy Facebook post entitled, "I am a Happily Married Man"[5]:
"On being awarded the Cultural Medallion, Singapore's highest national award for culture and the arts, a journalist asked me whether she could use the term "openly gay" to describe me. A little stunned, I asked her what my sexual orientation had to do with the award. She explained that as the two other winners were married, she felt it necessary to inform the readers about my marital "status", or something equivalent.

I paused, not quite knowing what to say. And then asked her if she would use the term "openly straight" to describe them. The irony was not lost on her, and we had a giggle. I told her she could write that I shared my life and work with Tony, my partner of seventeen years.

When I finally accepted the award at the Istana, I ended my speech by thanking Tony publicly, and I might add, to great applause. The article regarding the ceremony made the front page of the Straits Times the following day. But whilst my fellow winners' spouses were mentioned in glowing terms, Tony was conspicuously absent. This lack of any acknowledgement hurt.

I've always liked the idea of marriage. I cry at weddings because there is something beautiful and romantic about finding someone, falling in love, and wanting to give each other the world. Forever. I imagined it'd be bliss to come home to a best friend at the end of a day's work, to have dinner, or take evening strolls with. It would be wonderful to always have someone in my corner, a constant companion with whom I could just be myself, and to grow old with. But when I was growing up, I had little to look up to. There were no positive gay roles models, and neither were there any gay television programmes, books or films with happy endings. So I dared not entertain the hope that marriage could happen for me.

In the summer of 1996, I met Tony at the "Brief Encounter", a gay bar in London's West End. I was meant to be at another party that evening, but my hot date ran out of battery on his mobile phone, and I did not own one. So my intended tryst was scuppered, and I needed a drink. It was "Disco Thursday", and the place was heaving with an after-work crowd. As is always the case with gay bars, everyone was trying and never completely succeeding to be butch and cool. But when Barbra Streisand and Donna Summer's "Enough is Enough" came on, the make-shift dance floor went wild and everyone started a sing-a-long. I found myself mouthing the words with a casual insouciance - one tries to look as if you're enjoying yourself, but not too much.

And then I saw Tony, looking very handsome in his pinstriped suit, not a strand of his salt and pepper hair out of place and the kindest, most beautiful blue eyes. He too was singing. "I always dreamed I'd find the perfect lover, but he turned out to be like any other man…". We caught each other lip-synching across the crowded room, and laughed. And then, we proceeded to sing the entire anthem to each other. "Enough is enough, is enough, is enough…IS ENOUGH!!" We keeled over laughing. Sharing a sense of humour was a good place to start. When we finally recovered and spoke to each other, something clicked. That night, all our cares melted away and the world disappeared. We fell in love.

Six weeks later, on a moonlit street in London, Tony went down on bended knee and asked me to marry him. I remember being at once alarmed and moved. Given the improbability of such a union, and preferring to be romanced by chocolates, flowers and champagne, I declined. He persisted, gallantly getting down on both knees, and I agreed for us to be "boyfriends". Needless to say, our encounter has been more than brief.

Within three months of knowing each other, we moved in together. And one year later, in 1997, we moved to Singapore. It is a place we have grown to love very much, and that we call home.

When marriage equality became real in the United Kingdom this year, Tony and I decided to get married. We envisaged an intimate, private ceremony with our families and our close friends. It would be an occasion to celebrate and affirm our commitment to each other as a couple. We chose the 1stof August 2014 for our nuptials to mark our 18th anniversary together. Homophonically, pun fully intended, 1-8-1-8 is auspicious in Chinese. A little luck is needed on all great adventures.

Yesterday, at the Chelsea Old Town Hall in London, we avowed our love. With our nephew as our ring bearer, our siblings as witnesses, our family and our closest friends, we exchanged rings and made a promise to love and cherish each other to the end of our days. It was well and truly one of the happiest days of our lives.

We never meant for our marriage to be a political statement or an act of activism. Notwithstanding that, I have come to terms with the fact that as a public figure, one's personal joy sometimes becomes political.

Even as the LGBT community in Singapore struggles for equality and acceptance, there have been there have been many incidents that have vilified us in recent days. These have ranged from the religious fundamentalists' declaration of war on the community and a widespread and systematic campaign of hate to keep S377a on the law books, the attempt to undermine the Health Promotion Board's guidelines, and the Wear Red and/or White Movement. In fits of moral panic,the MDA banned Ah Mei's "Rainbow", and the National Library Board shelved children's books to its adult collection.

It is easy to see that all of this stems from the presence of S377a, which is in effect state-sanctioned bigotry. The verdict is still out on the constitutional challenge to this archaic law that discriminates against a vulnerable segment of our society. But as it stands, neither the judiciary nor legislature seems to have the moral courage to repeal it. Between Goh Chok Tong's, "We are born this way and they are born that way but they are like you and me" to Lee Hsien Loong's "Why is the law on the books? Because it's always been there and we should just keep it there." - we really have regressed, even as the world is waking up to the fact that LGBT rights are human rights.

In spite everything, we remain hopeful.

Pink Dot continues to grow in size and meaning, proudly signaling a wish for a more fair and just society. The way we progress, how we regard human rights in our society,is always driven by the young, who are not married to the prejudices of the past. My personal interactions with young people, not least my dear nephews and nieces and indeed all the beautiful children at our wedding, give me hope for the future, and a distinct sense that time and history are on our side. In the bigger scheme, Singapore is showing signs of maturing as a society. Our citizens, both straight and gay, recognise inequality, prejudice and hate-speech when we see it, and are now more ready than ever to call it out. We are finally beginning to have the important conversations that go to the heart of living in a true democracy. Because truly, if we want to talk about our core values and community standards, these surely must include notions such as tolerance, inclusivity and diversity. I trust we will come to understand that this has as much to do with the protection of the rights of a minority, as it is about the will of the majority. The LGBT community is not going to go away or disappear. So the sooner everyone gets over it, the happier everyone will be, and we can get on with more pressing matters. Enough is enough.

And Singapore is changing. We were a little nervous about telling anyone outside our close circle of family and friends about our nuptials. In getting ready for our Big Day, we had to find and buy our wedding rings, tailor our outfits, get advice for our wedding cake, get our invitations and programmes printed. We had to "come out" again and again to complete strangers. But in our experience, these ordinary Singaporeans were nothing but kind and genuinely happy for us, unabashed in their congratulations and best wishes, offering to help us in any way possible.

This experience has affirmed our belief that the most important thing anyone can do as a human being, straight or gay, is to be true to oneself. We are so much happier if we can all be proud of whom we are, how we feel, whom we love. Our marriage is a declaration our love, and we invite the world to share in our joy. We are deeply grateful for our wonderful family and our amazing friends, whose love and support has been a great encouragement and inspiration to us through the years.

In closing, I would like to report that your fellow Singaporean, Ivan Heng is now "openly married".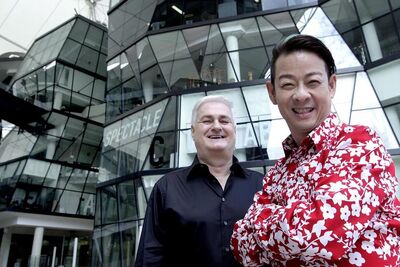 The news of Heng and Trickett's marriage was reported in The Straits Times on 3 August 2014[6],[7]. Readers expressed their heartiest congratulations in the comments section below the article.

Filmography
[
]
Films
[
]
2013: Sex.Violence.FamilyValues. – Pole Dance Judge
1999:

Rogue Trader

– Singapore Bartender
1997:

The Fifth Element

(Le Cinquième élément) – Left Arm
Plays
[
]
2015: Public Enemy – Dr. Thomas Chee
2013: The Importance of Being Earnest – Lady Bracknell
2012: La Cage Aux Folles – Albin
2011: Emily of Emerald Hill – Emily
2011: The Weight of Silk on Skin – John Au Yong
2006: Jack and the Beansprout – Widow Neo
2004: For the Pleasure of Seeing You Again – Narrator
2002: Emily of Emerald Hill – Emily
2000: Emily of Emerald Hill – Emily
1999: Emily of Emerald Hill – Emily
See also
[
]
References
[
]
"A Day In The Life: Ivan Heng", W!ld Times issue #042, March 2017[8].
Further reading
[
]
↑
Template:Cite news
↑
Template:Cite news