Objectifs, established in 2003, is the leading art space in Singapore that champions film and photography and their value to society.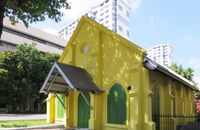 Its goal is to cultivate original voices in visual storytelling, and to inspire and broaden perspectives through the power of images. It does this by presenting exhibitions, developmental programmes, screenings, talks and workshops that advance the practice and appreciation of photography and film.
Objectifs Centre Ltd is supported by the National Arts Council under the Major Company Scheme from 1 April 2019 to 31 March 2022.
Objectifs is located at 155 Middle Road, Singapore 188977. Telephone number: +65 6336 2957; Fax number: +65 6336 2957; Email: info@objectifs.com.sg
Its gallery and retail opening hours are Tuesday to Saturday from 12pm to 7pm and on Sunday from 12pm to 4pm. It is closed on Mondays and public holidays.
It moved from Arab Street to Middle Road, where it opened its doors in a canary-yellow chapel building on 11 June 2015. The space, a stone's throw from Artichoke and Neh Neh Pop, was previously occupied by Sculpture Square, Singapore's only art space dedicated to contemporary 3-dimensional (3D) art. The 8,000ft building had been empty since Sculpture Square moved out last August.
The new location was twice the size of its old spot, though some patrons missed cutting through the ground floor Turkish restaurant to get there. The new space housed a Chapel Gallery, retail space, artist studio and workshop space. The external courtyard area would also be used for outdoor screenings and exhibitions.
The opening show was photographer Ernest Goh's "Breakfast at 8 Jungle at 9" that ran from 11 June 2019 to 19 July 2019. The exhibition used lots of repeating motifs from nature to showcase insects, butterflies, flowers and birds in a whole new light.

See also
[
]
References
[
]