The Penang Nude Sports Games 2014 (also referred to as the Malaysia-International Nude Sports Games 2014 Extravaganza) was a one-day gathering of nudists, mainly from Malaysia and Singapore, on a remote beach in Penang to participate in sporting activities. After a video of the event was uploaded to Vimeo, it caused an immense outcry in Malaysia which led to the arrest of the naturists and the imprisonment of those who immediately pleaded guilty to the offence. Four who claimed trial were later fined but not jailed after they produced evidence that they were given permission by a Penang National Park patrolman. The saga dealt a huge blow and was a great setback to the nudist movement in Malaysia and Singapore which aimed to promote acceptance of naturism in the two countries.
Initial reports in Malaysia
[
edit
|
edit source
]
On Tuesday, 5 August 2014, an article on a Malaysian news website based in Kuala Lumpur named The Rakyat Post drew the general public's attention to a video uploaded to Vimeo purportedly depicting Singaporeans organising a "nude sports games" in a secluded part of Penang island which had begun to make its rounds and had set tongues a-wagging[1]. The controversy surrounding the video was also reported by Malaysiakini which spun the story with a local political slant:[2]
The 5 minute, 26 second-video was apparently uploaded to Vimeo by a user at first identified only as Axxxxx. It showcased about 18 nudists, both men and women, holding their annual "Malaysia Nude Sports Games 2014″. A check by The Rakyat Post (TRP) later speculated that Axxxxx could be Axxxxx Yxx, who was credited as the director in the video. Further sleuthing led to the discovery that Yxx was a member of Naturism in Singapore where he wrote the following in his introduction: "I am a friendly nudist. I love outdoor activities. I organised nude activities in Singapore. I'm the moderator of SgNudClub. :-)"
According to the video's description, the self-proclaimed naturists and nudists had assembled at Teluk Bahang jetty, Penang, where they then made their way to a secluded part of the island, believed to be Pantai Kerachut, a 2km-long beach along Teluk Kampi which is about 4.5km from the entrance of the park and about 35 minutes by boat from the Teluk Bahang jetty. The uploader, Axxxxx, claimed that the 18 of them were the only ones on the site.
The event, which was believed to have taken place in a single day, kicked off with the participants body painting each other after stripping down. They then went for a 2km walk and indulged in skinny dipping.
The video's footnotes thanked one Miss Cxxx for organising the event and the "naturists for coming and making history in Malaysia". An announcement: "See you this coming Dec 5, 2014, the Asian Nude Sport Games and Conference in Penang, Malaysia" was also made in the video. The video footage claimed that the activity took place on 30 May 2014[3].
The Star reported that on Facebook, the link to the video was shared over 260 times and had triggered a debate over its authenticity. It was uploaded on video sharing website Vimeo two months before but, owing to the brouhaha, was taken down by the afternoon of Tuesday, 5 August 2014 at around 2pm. One Malaysian blogger had downloaded the video just before it was removed and reuploaded it on the same day to his own Vimeo account with the title, Pesta Bogel Di Pulau Penang[4]. However, on Monday, 11 August 2014, Vimeo removed or disabled access to bootleg video as a result of a third-party notification by an Axxxxx Yxx who claimed the material infringed his copyright[5].
Questions were being asked by the Malaysian public as to how such activities could be allowed on Malaysian soil since it was clear that local by-laws had been violated, besides the event going against local culture and sensitivities.
Teluk Bahang assemblyman Shah Headan Ayoob Hussain said park officers had been instructed to check the visitor registration records for clues. He surmised, "The background in the clip resembles a site at the Penang National Park. But it is hard to imagine that these nudists could have gone unnoticed when about 500 people visit the park daily. We are afraid that the video may have been doctored. It is best that we let the authorities investigate and not jump to conclusions but if such a thing did indeed happen here, I feel that it shouldn't have as we are a conservative country."
Meanwhile, the Penang state government said it had no knowledge of any "nude sports" event. Penang Chief Minister Lim Guan Eng remarked that the state would not even approve a casino for Penang, let alone sanction an event for nudists. He added, "We'll let the police investigate the matter."
At a news conference in George Town on Wednesday, 6 August 2014, Penang police chief Datuk Abdul Rahim Hanafi announced that the incident was being investigated under Section 509 of the Malaysian Penal Code for using words or gestures intended to insult the modesty of a person. If found guilty under the statute, the participants could face a jail term of up to 5 years, a fine or both.
An editorial in Malay entitled, "Pesta Bogel Di Teluk Bahang, Penang?" published by Suara TV included a brief write-up of the event posted below the video by one of its participants, Jxxxxx[6],[7]:
"Here is my review and report of the Malaysia-International Nude Sports Games 2014 Extravaganza.

On that day, we all assembled at the Teluk Bahang jetty in Penang. Many of us arrived early and went to the nearest Malay food restaurant to grab our lunch which was only located just outside the jetty's main entrance. It was such a lovely sunny afternoon and we were all excited about this event.

Later as the time reached 2.30pm, we walked to the jetty and met up with the others who had also just arrived. One of our nudist friends, CWxxxxx, was not able to attend the event because he was on a family trip in Penang but he showed up anyway at the jetty just to watch us go off into our boats and wished us all the best for our event.

As we waited for the boatmen to get ready, the skies were already starting to look gloomy and the waves started to get a little rough. We split into 2 boats and thus began our journey to the secret beach that was located around the back of Penang island.

As we were traveling through the seas, it was a bumpy ride as the boat swayed up and down through the rough waves. It was thrilling yet fun. We were all laughing and smiling to each other. We also took several selfie photos too =)

Then we finally arrived to our destination. It was a very quiet beach. The atmosphere was so calm and peaceful. The view of the beach and sea was spectacular. We were the only visitors there. We unloaded our things from the boat and Ms Cxxx went to approach a ranger who was in charge of that place and also who was apparently on duty alone by himself on that fine day.

After verifying with the ranger about our nude event, we moved to a hut nearby and started stripping. We began our first activity with nude body painting. Everyone actively took part in this. We took turns by painting someone else's body and later got painted in return. There were many interesting and nice body drawings. Some of us had flowers, trees, abstract and even cartoon character drawings on our bodies.

Then we took many photos of each other. We also moved to the beach and took several group photos of our body paintings. Later, we proceeded to our next activity which was the sports games where we played pass-the-baton running, swim-over-body challenge and the group crab walk. There was so much laughter everywhere and by the time we entered the 3rd game, many of us were already exhausted.

We then took a nude walk along the beach which stretched about 2km long. There were also some of us who went to skinny dip in the sea. One of the persons among us was our videographer and he recorded every moment of our event without missing a single one. The beach was so clean and the sand was so fine. Along the way, you could also find seashells lying around the beach.

As we walked further up till the far end of the beach, we came across some very nice looking rocks that were great for taking pictures and we did plenty of photo sessions there. Our videographer also went to interview a few of us about the joys and perspective of naturism for our event video.

We literally had the whole beach to ourselves. It really felt like a nude beach because everyone that was present there was all nude. There was no disturbance from the outside world. For once we really got to enjoy the natural environment and atmosphere just as how nature intended it to be.

After all the fun, we walked back to our hut. As we reached the hut, suddenly a boat appeared from the sea and arrived at our beach. We quickly dressed up just in time and later found out that the men in the boat actually brought our meals for dinner.

We had asam laksa, nasi lemak, mihun goreng, chicken satay, fish barbeque, keropok lekor and Sarsi syrup. We had a wonderful dinner. There was so much of food to eat until eventually there were a few leftovers and extra packets of food left. Then we decided to save some for supper.

After dinner, we had our shower and went to set up our sleeping bags. We even set up a tent in the hut specially catered for those who got bitten by mosquitoes a lot. We also went to set up a campfire just outside of the hut.

We used the natural resources we could find within our reach such as branches, dry leaves, etc., to start the fire. We even got some assistance from the ranger where he splashed some kerosene to get the flames bigger. After the fire was stable, some of us stripped and stood around the fire while enjoying the beauty of it burning in the dark."
News coverage in Singapore
[
edit
|
edit source
]
As news of the video spread across the Causeway, the Singaporean tabloid, The New Paper published an article on the same day, Tuesday, 5 August 2014, describing the huge furore that the video had caused in Malaysia[8]. It sourced its information from the Malaysian newspapers, the Malay Mail and The Star.
In the video, participants could be seen indulging in body painting, relay racing one another in the nude, doing a crab walk, performing kettlebell exercises around a campfire and a "Gangnam style horse dance" where a woman straddled a man on his back as he walked forward on all fours. In one activity, a naked woman was seen trying to climb over three men as they lay shoulder-to-shoulder in the sand. Aside from taking pictures of each other in the nude, the participants strolled about and danced with one another. They also sat around a fire and camped for the night.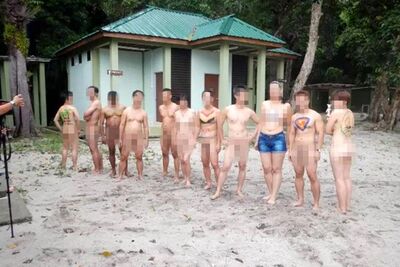 Most participants' nationalities traced
[
edit
|
edit source
]
The following day, on Wednesday, 6 August 2014, The Straits Times published an article containing additional details[9].
It reported that the Penang police were investigating the video which showed around 18 nudists, including Malaysians and Singaporeans, taking part in nude events at the beach, Pantai Kerachut, in Teluk Bahang.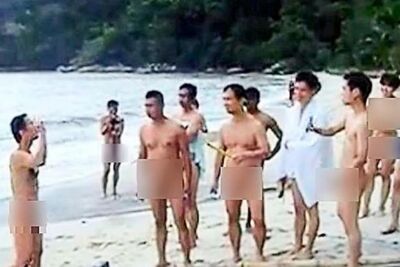 Malaysia's New Straits Times (NST) had quoted the police as saying that 7 of the 18 nudists were Malaysians, 4 were Singaporeans, 2 from Myanmar and 1 each from the Philippines and India. The remaining nudists had yet to be identified. The newspaper wrote that state police chief Datuk Abdul Rahim Hanafi announced the police had taken statements from 10 people and groups, excluding the nudists, over the incident. "We now know what had taken place but will not reveal anything more until we have completed our investigations," he told reporters on Wednesday, 6 August 2014.
The New Paper quipped that if one thought being a nudist in Singapore was rather uncommon, the video and more would prove one was wrong[10]. Evidence for this was the existence of Naturism in Singapore, an online site which brought local nudists together. The group worked very much like any other social site where one could make friends and meet up with the nudists one liked who caught one's attention. The tabloid surmised it explained how 4 out of the 18 people involved in the Penang Nude Sports Games 2014 video had been identified by the Penang police as Singaporeans - by combing through the group's posts.
The police had also gathered DNA samples and fingerprints from a house where the nudists were believed to have stayed in. A team of 10 personnel from the district's forensic unit had started combing for evidence at several spots where the nudists were believed to have hung out.
Tracking down local and foreign participants
[
edit
|
edit source
]
The Penang police said that it would seek Interpol's help to trace 8 of the 15 foreigners. "We believe we can trace them soon so that they can assist in the investigation into the incident," the state police chief told reporters on Thursday, 7 August 2014. He said the police were trying to track down the Malaysians, aged between 20 and 50, failing which they would publish their mugshots and identities so that the public could help trace them.
He also said that the police had recorded statements from 13 people over the "carnival", including those on patrol duty during the so-called games. The police had also identified the organiser of the games, a Malaysian in his 50s who was also a participant, as well as the individual, a foreigner, who made the video recording and uploaded it to social media websites.
On Thursday, 7 August 2014, The Straits Times ran an article drawing attention to the fact that 4 of the nudists were Singaporeans. When contacted, the Penang police declined to reveal their names.
However, the newspaper believed that one of them was Mr Axxxxx Yxx who moderated a Yahoo online group for local nudists. Mr Yxx could not be reached for comment the day before.
A participant in the event, Mr Mxxxxx Cxxxxx from the Philippines, had written about his experience on the nudist forum International Young Naturists Organisation two months prior, and provided a list of those attending. Mr Yxx's name was among those listed.
According to lawyer Tan Hee Joek, the Malaysian authorities could request the assistance of their counterparts in Singapore to extradite the alleged Singaporean offenders who may be punishable for 6 months or more under Malaysian law.
Penang National Park patrolman under investigation
[
edit
|
edit source
]
On Wednesday, 6 August 2014, it was reported that a Penang National Park patrolman who was on duty when the nude sports games took place was under domestic investigation[11],[12]. The park management committee member Datuk Shah Headan Ayoob Hussain said they were still waiting for a report from the man for not informing the management over the indecent acts taking place on 31 May 2014. He, however, did not reveal whether the patrolman had been suspended pending investigation.
Shah Headan said an initial probe found that the patrolman had issued repeated reminders to the nudists that they were not allowed to strip on the beach. "But they did not heed the patrolman's advice. We are now investigating the patrolman on why did not inform us over the nude event. He could be threatened or ridiculed by the group over this... that's why he dared not report the incident. But we will investigate. As far as we are concerned, he has no authority to take action against the group of people. He can only advise," he announced during a press conference at the Penang National Park office.
Reaction of Malaysian public
[
edit
|
edit source
]
An article published by AsiaOne on Wednesday, 5 August 2014, which sourced its news from The Star and Asia News Network described the reaction towards the viral video as ranging from utter shock to nonchalance[13],[14].
Commenting on the "Malaysia Nude Sports Games" that was revealed to have been held in May 2014, Twitter user @laylamajusi said she was a supporter of nudism as well as having nude beaches, and believed that it was time to start talking about naturism in Malaysia.
"Personally, I endorse nudism/naturism. There's nothing wrong with it if they were doing it privately," she tweeted. "We were born nude. So why must we fear the very state we were born in?" she added.
Another tweeter @nudeboyuk said that the "games" looked like fun. "But I don't think I would try the kettlebell exercises with my history of accidents," he tweeted.
@AsmidarMamaAufa expressed her dismay over the video: "Omg! They are wearing their birthday suit!"
Meanwhile, @zulhimiamar said the video did not offer a "pretty sight". "When they say nude, I thought it would be a pretty sight. I was wrong," he tweeted.
Several tweeters also expressed their outrage over the incident.
@HRDipendra said: "It's a good thing that Malaysia has laws against indecency. The Nude Sports Games 2014 is why we need laws on indecency and public morals."
Tweeter @surfme61 called the nude games "a disgrace" and questioned if the nudists were examples of "civilised, cultural and developed behaviour".
"What have we Malaysians become?" questioned @4r544, adding that such behaviour was like "returning back to the Stone Age".
Naturist says event to promote health, not sex
[
edit
|
edit source
]
On Thursday, 7 August 2014, The Straits Times published an article sourced from a Malaysian newspaper which interviewed Mr Axxxxx Yxxx, the Singapore permanent resident and self-proclaimed naturist behind the controversial video. Yxx explained that the event was not sexual in nature and was meant to promote a healthy lifestyle.
He was a member of a Singaporean naturist group and revealed that he had been living the nudist lifestyle for 25 years. The practice, he stressed, did not prescribe going naked for sexual reasons. "Purely nudism... No sex! We have given talks in Thailand and Singapore... We all are true nudists," he told the Malay Mail Online in a recent interview through Facebook.
Mr Yxx, whose name appeared at the beginning of the controversial clip, had since changed the video's privacy settings, noting that it had attracted unwanted attention from the media. He said this was to protect his friends, acknowledging Malaysian police had opened investigations on the participants after receiving 12 complaints about the event.
In the Facebook interview, Mr Yxx also insisted that the May 2014 event was the first and only one to be organised on Malaysian shores. "Only this big nude event... one time only," he said, confirming that the event included Malaysian participants. He claimed the party of nudists had been given permission from a ranger to use the private stretch of beach for their sporting activity.
Asked if he was aware of Malaysian laws regarding nudity in public, he said: "No… if the beach is quiet and seclusive, it is okay to go nude… as long as I don't offend people." He added: "Law are man-made one... if good and benefit to people, law should change".
Mr Yxx, however, stressed that his group did not mean to break the law or offend others. "Please help us to make it positive," he asked before the interview ended. "Anything you want to know more, you can ask me. I need your help to tell the public… it is not sex. it is a lifestyle."
Nudist filmed in buff before in Singapore
[
edit
|
edit source
]
On Friday, 8 August 2014, The Straits Times published an article claiming Yxx had in the past filmed himself naked in public places in Singapore, including MacRitchie Reservoir, Changi beach and the East Coast Park.
The most recent video that Yxx, a Singapore permanent resident (PR), uploaded of his exploits involved him and a handful of like-minded people baring all at Goldkist Resorts, which rented out chalets at the East Coast Park. The activities, which allegedly took place on 27 July 2014, were not confined to the chalet, but took place outdoors as well.
A female Malaysian citizen, Cxxx Txx Hxx, who had allegedly organised the nudist event in Penang in May 2014, was pictured leaning on a tree in the resort naked. Mr Yxx, a Malaysian national in his mid-50s, could also be seen posing on a bench nude. The pictures were seemingly taken while no one else was around.
When asked about the gathering, Goldkist Resorts said that such behaviour was not allowed on its premises. "We are a family chalet," said a spokesman, adding that no one had reported the incident to the management previously.
The Straits Times managed to view 4 local videos, ranging from 4 to 10 minutes, which were posted by Mr Yxx. They were all time-stamped. According to the videos, those who took part were members of a Yahoo group called SgNudClub founded in May 2006. It listed 619 members at the time.
One video dated 30 March 2014 showed 2 men and a woman swimming naked at a beach in Changi. They also suntanned nude, flashing peace and thumbs-up signs at the camera. Others showed Mr Yxx and his friends naked in public outdoor showers, and while doing kettlebell exercises and yoga naked. No sexual contact was involved.
The videos, which were usually set to songs, ended with the words "Axxxxx Yxx Productions". Captions such as "What's (sic) a lovely day at the beach" and "Thank you all for watching" were also included.
According to lawyer Tan Hee Joek, Mr Yxx could be charged with appearing nude in public, and making and distributing obscene films. If found guilty, he was liable to be jailed or fined or both.
Mr Yxx, who was then unemployed and married with 3 daughters, had since taken down the videos or made them private after coming under scrutiny.
He did not answer calls from The Straits Times. His Facebook page, along with Miss Cxxx's, was also taken down the day before.
Although already identified by the Penang police, none of the participants of the nudist event at the secluded beach in Teluk Kampi at the Teluk Bahang National Park had come forward. Penang police chief Abdul Rahim Hanafi said that unless they did so, their details and photographs would be made public. "We will also contact Interpol in Bukit Aman to get help from our counterparts overseas to trace their citizens who were involved," he added.
In another report in The Rakyat Post, Mr Yxx was quoted as saying he was willing to come forward but that the police "must pay for my coach fares". Surprised that the video had become such a big issue, he said: "We will still continue with such activities, but just not now."
Female participant detained by police
[
edit
|
edit source
]
During a press conference held in Penang on Friday, 8 August 2014, Malaysian police officers showed portraits of the people allegedly involved in the event.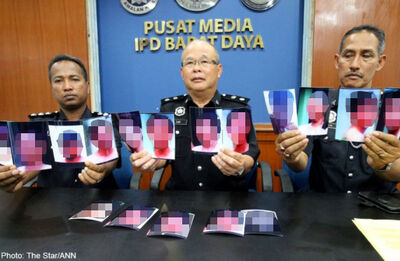 On Saturday, 9 August 2014, The New Paper published an article, sourced from The Star, which reported that the Penang police had detained a woman to help with their investigations regarding the nudist event[15]. The private music teacher, 34, gave a statement after she was picked up at an undisclosed location on the night of Thursday, 7 August 2014. "She has since been released on police bail," Supt Lai Fah Hin announced at the district police headquarters on Friday, 8 August 2014.
He said they had also identified two key suspects, retired teacher Cxxx Txx Hxx, 57, and Axxxxx Yxx, believed to be in his 50s. They were allegedly participants and organisers of the event on Friday, 30 May 2014. Cxx was purportedly from Sungai Petani while Yxx was a Singaporean permanent resident. The Malaysian police added that those found guilty of conducting lewd activities in a public place could be jailed for up to 3 months, fined or both.
Four Singaporean nudists identified
[
edit
|
edit source
]
The names of the 4 nudists from Singapore were released by the Malaysian police on Sunday, 10 August 2014[16],[17]. They were Mr Axxxxx Yxx, a Malaysian who was a Singapore permanent resident and had been identified as one of the event's organisers, Mr Lxxxxx Lxx and Mr Txxxx Lxx, and Mr Kxx Hxxx, who was believed to be a director at a local media company. Attempts by The Straits Times to contact them that day were not successful.
The names of another 11 participants were also released after they failed to turn themselves in. These included 7 other Malaysians, 2 people from Myanmar, and 1 each from India and the Philippines. The participants were all aged between their 20s and 50s.
Penang police, who received 11 reports complaining about the event, also said that they had arrested a 34-year-old woman, a private music teacher, who was identified only as "Exxxx".
Female Malaysian naturist Cxxx Txx Hxx, a 57-year-old retired teacher and the other organiser of the Penang event, was also pictured nude in one of the videos recorded by Axxxxx Yxx in various public locations in Singapore. It was revealed by The Malaysian Insider that Ms Cxxx was a former Gerakan Wanita chief in Kedah during the 1980s[18]. Gerakan is a party in the ruling Barisan Nasional coalition. Gerakan's deputy president Datuk Dr Cheah Soon Hai said the woman, who was the wing's chief in the 1980s, was no longer a party member. Her membership lapsed after she stopped paying fees for over 20 years, he added.
According to Teluk Bahang assemblyman Datuk Shah Headan Ayoob Hussain, a Penang National Park watchman was allegedly threatened by the nudists when he told them to stop stripping. "We're still investigating why the watchman did not report the matter to the management," he said, describing the nudist event as a catastrophe and uncivilised. This incident has damaged the reputation of the country, not just the image of the park."
He added that a report on the domestic inquiry into the nude sports games would be given to the police[19],[20]. Officers from the Resources and Environment Ministry were carrying out the investigations into the matter. "Malaysians would not accept nude activities here. I will leave the investigation to the police to announce," the Teluk Bahang assemblyman told a press conference during a Hari Raya open house held at the entrance of the park.
Balik Pulau OCPD Supt Lai Fah Hin, who was present, refused to comment on the issue. It was reported that the park's patrolman who was on duty during the incident on Friday, 30 May 2014 was under domestic investigation.
On Tuesday, 12 August 2014, AsiaOne reported that a second woman had been detained for investigations[21],[22]. State police chief Senior Deputy Comm Datuk Wira Abdul Rahim Hanafi said the 24-year-old woman, who worked in Kuala Lumpur, was arrested in Perak at about 10am on Saturday, 9 August 2014, and brought to the Balik Pulau station where her statement was recorded.
"We believe that the 7 Malaysians identified in the video, including the organisers, are still at large because an Immigration Department check showed that they have not left the country," he said after witnessing the handing over of duties by state logistics department chief Supt Mohd Taha Baba to Supt Rosli Hassan there the day before.
Political finger-pointing over event
[
edit
|
edit source
]
In a related development, Penang Barisan Nasional chairman Teng Chang Yeow stressed that the state government did indeed have a say about the park's management. He said that with 3 state-appointed representatives as well as the state secretary, who also chaired the National Park Committee, on the National Park Advisory Council, Chief Minister Lim Guan Eng should not have been ignorant about the matter.
"Now, he claims that the state government's role in the Penang National Park is a minor one and he wants full control of it. It seems like he does not even know about his 'minor role' over the last 6 years and only found out when I raised the matter," Teng remarked.
On Saturday, 9 August 2014, Chief Minister Lim had said that it was unfair to blame the state government because it did not have final say over the park. He added that Penang was prepared to assume full responsibility for the park provided it was also allowed to take over its advisory council. Penang Gerakan secretary Oh Tong Keong lambasted Lim for "acting innocent" on the state government's powers over the management of the park.
Barisan Nasional chairman Teng criticised Lim for trying to "wash his hands" off over the nudist games uproar at the Penang National Park[23],[24]. The Chief Minister, Teng said, was diverting responsibility to the federal government instead. He told reporters during Umno's Hari Raya open house in Pantai Bersih: "The Chief Minister claimed that the state and local authority has no power over the area but that's not true. The National Parks Act gives the state government a big say over the running and control of the park."
Section 7 states that the State Secretary would be the chairman of the National Park Committee. Lim said that the Penang park came under the purview of the federal government and there was nothing he could do as it was run and managed by the Natural Resources and Environment Ministry.
Teng claimed that during Chief Minister Tan Sri Dr Koh Tsu Koon's tenure, an agreement was reached with the Natural Resources and Environment Minister. "It allowed the state government to appoint 3 members of the National Park Advisory out of the 6 members to be appointed by the minister," he pointed out. "When I was appointed the state executive councillor for Tourism Development and Environment in 2004, we suggested an amendment to the Act to allow a state executive councillor to head the National Park Committee but it was shot down by the ministry."
Participants attended other nudist events later
[
edit
|
edit source
]
On Saturday, 16 August 2014, Asia One reported that after the so-called Penang Nude Sports Games 2014, 9 of its participants stayed overnight at a durian orchard in Balik Pulau, where they continued to bare it all[25],[26]. A week later, the same group romped around in the nude again at another event in Thailand. They did not do it just on the beach in Teluk Kampi, Teluk Bahang.
State police chief Senior Deputy Comm Datuk Wira Abdul Rahim Hanafi said that after the games on 31 May 2014, nine of the 15 participants stayed overnight at an orchard in Balik Pulau, moving about naked. "From June 6 to 8, the same nine people were in Pattaya for a nude event. "We learnt that about 30 different nationalities participated in the nude party," he added.
SDCP Abdul Rahim also said 2 of the Teluk Kampi participants - a 40-year-old Malaysian and a 30-year-old Singaporean - had surrendered to the police. "We recorded both of their statements on Wednesday and are still looking for 11 others who were involved in the event," he said after witnessing the handing over of duties from outgoing south Seberang Prai OCPD Supt Shafien Mamat to his deputy DSP Shariffudin Abdullah, who is now the acting OCPD. Supt Shafien has been promoted to Bukit Aman with the rank of ACP.
SDCP Abdul Rahim revealed details regarding 2 of the Teluk Kampi nude games participants - Cxxx Txx Hxx, 57, from Sungai Petani, Kedah, and Jxxxxx Axx, 24, from Batu Berendam, Malacca. He also identified 9 other participants as Cxxxxx Cxxx, Txxxxx Kxxx, Jxxxx Kxxxx and another woman named only as Jxxxxx from Malaysia. The others were Axxxxx Yxx, Txxxx and Lxxxxx Lxx from Singapore, Nxxxxx from Myanmar and Mxxxxx Cxxxxx from the Philippines. Police were also looking for two eyewitnesses - Mxxxxx from Singapore and his Burmese girlfriend - to assist in investigations.
SDCP Abdul Rahim urged the suspects to turn themselves in to the police and help facilitate the investigations.
Singapore PR nudist surrenders to police
[
edit
|
edit source
]
On Sunday, 17 August 2014, AsiaOne reported that another nudist had come forward to facilitate in the investigations after 5 fellow participants surrendered. 46 year-old Malaysian and Singapore PR Axxxxx Yxx turned himself in at the district police headquarters in Balik Pulau on the evening of Saturday, 16 August 2014.
Yxx also handed the following open letter via email to a local newspaper. It read:
"To the Penang State Government, we are sorry to hold a naturist event in Penang, which created a storm in the whole of Malaysia.

"We will ensure that we won't do it again and please accept our deepest apologies for our misconduct that happened in Teluk Kampi, Penang and created embarrassment to the country.

"We have much esteem for the law in Malaysia.

Sincerely, Axxxxx Yxx and naturists."
Balik Pulau OCPD Supt Lai Fah Hin said they were working to obtain a remand order for Yxx soon. In a related development, remand orders had been obtained for 4 Malaysians aged between 24 and 57 and a 30-year-old Singaporean at the George Town Magistrate's Court the same day. They would be detained for 3 days until 19 August 2014 to assist in investigations under Section 509 of the Malaysian Penal Code - gestures intended to insult the modesty of a person.
3 more nudists presented themselves for questioning a day after Penang police chief Senior Deputy Comm Datuk Wira Abdul Rahim Hanafi released their details to the public[27],[28]. The trio, all Malaysians, aged 24, 27 and 57, turned themselves in at the Balik Pulau police headquarters at 10:30am on Saturday, 16 August 2014.
SDCP Abdul Rahim confirmed that 2 women and a man had surrendered, adding that a remand order would be obtained for the trio on Sunday, 17 August 2014. He said 3 more Malaysians were still at large. A 40-year-old Malaysian and a 30-year-old Singaporean had since surrendered to the police who recorded their statements on 13 August 2014.
Altogether, a total of 5 Malaysians were in police custody, while 2 others had been released after their statements were taken. "We are still looking for another seven people, including from Myanmar and the Philippines," Penang district police chief Lai Fah Hin told AFP[29],[30].
Nudists lived in fear after video leak
[
edit
|
edit source
]
The organiser of the "Penang Nude Sports Games 2014" which raised a nationwide storm, claimed the participants were living in fear after the video of the event went viral[31]. Mr Axxxxx Yxx, the videographer of the event, said that with the police hot on their heels, they lived in fear every day "like criminals".
"The immense pressure led to sleepless nights. We were filled with sadness and fear and we avoided everyone. We have to thank one of our friends for making the first move to surrender. Without him doing it, I don't think any of us would dare surrender," he recounted, adding that they had a talk before deciding to surrender together.
Yxx sent e-mails to 13 participants of the nude games to offer his apologies. He claimed that his Vimeo account was hacked and shared widely without his knowledge, causing unnecessary attention and trouble. He threatened to take legal action against those uploading the video on other video-sharing websites for copyright infringement.
In Butterworth, Chief Minister Lim Guan Eng said the organiser must also apologise to the Penang National Park as the event took place there. "Even though they had apologised, they have to face the music as this sort of behaviour is not acceptable in Malaysia," Mr Lim commented on Sunday, 17 August 2014.
Police end investigations with suggestions to A-G
[
edit
|
edit source
]
On Tuesday, 19 August 2014, Penang CID chief SAC Mazlan Kesah announced that the Penang police had completed their probe and submitted the investigation papers to the Attorney-General's Chambers. "We made certain recommendations. It is now up to the Attorney-General to decide the next course of action," he said.
Mazlan, however, declined to reveal details of the police's recommendations. He said so far, 9 of the 15 suspects had surrendered to the police to assist in the investigations. 8 of them were Malaysians, including 2 with permanent resident status in Singapore, while the fifth suspect was a Singaporean.
He said the suspects would be released on 19 August 2014 as their remand order expired that day. "We are not applying for an extension. They will all be released on police bail," he added.
The police were still looking for the remaining 6 participants of the nude event. They were a Singaporean doctor, known to the police as Txxxx, who was in his 30s; Malaysian Jxxxx Kxxxx, in his 40s, who worked at the Changi Airport; Malaysian Mxxxxx, in his 30s; Filipino Mxxxxx Cxxxxx, in his 40s; and Burmese Nxxxxx and his girlfriend, who were in their 30s. Mazlan said the police were also working with Interpol to locate the whereabouts of the foreigners.
The case was investigated under Sections 294a and 509 of the Malaysian Penal Code. Malaysia's Section 294a states that a person committing an obscene act in a public place can be jailed 3 months, fined or both, while her Section 509 states that a person guilty of using a word or gesture intended to insult the modesty of another can end up five years in jail, fined or both.
10 nudists charged with causing public unrest
[
edit
|
edit source
]
On Thursday, 28 August 2014, 10 participants in the Penang Nude Sports Games were charged with causing public unrest[32],[33]. 6 men pleaded guilty while 4 others claimed trial at the magistrates' court today. The 10 were charged under Section 294(a) of the Malaysian Penal Code for causing public unrest by stripping naked on the secluded beach from 3pm to 6pm on 30 May 2014.
Those who pleaded guilty were Lxx Kxx Hxxxx, Mx Wxx Pxxx, Jxxxxx Axx, Axxxxx Yxx, Lxxxxx Lxx and M. Nxxxx Kxxxx. Magistrate Mohd Najib Ismail sentenced all 6 to 1 month's jail and a RM5,000 (S$1,984) fine in default of 3 months' jail. Yxx, who is a permanent resident in Singapore, was slapped with an additional 6 months' jail under Section 292 of the Malaysian Penal Code for distributing and possessing pornographic material. The magistrate ordered the 6 to serve their sentences from 28 August 2014 after listening to their apologies and individual pleas for a lenient sentence.
Deputy Public Prosecutor Edward Chan, however, pressed for a harsher sentence to send a message to others that Malaysia will not tolerate such an offence. "We need to send a message that we do not accept such a culture in our country especially when the offence could degrade and corrupt young, innocent minds," he said.
When delivering the sentence, Mohd Najib said the local community could not accept public nudity, based on the negative reactions towards the event and that all segments of society criticised and did not accept such acts. He cited one of the Rukun Negara principles, "Kesopanan dan Kesusilaan" (courtesy and morality), that told the people to behave with modesty and morality and was the basis for Malaysia to be a harmonious country. "But the actions you committed are clearly against these principles," he admonished the 6.
Lxx and Mx appealed to the court for a stay of execution, saying they needed to settle their affairs first, but were denied. Lxx was represented by lawyer S. Thangaveloo. Meanwhile, the other 4, Cxxx Txx Hxx, Cxxx Cxxx Wxx, Txx Gxxx Hxxx and Kxxx Mxxx Lxxx who claimed trial were released on bail of RM4,000 in one surety each by the Penang court.
Mohd Najib fixed 16 October 2014 for mention of the case. Counsel Alan Choong represented Lxx and Jason Khor represented Txx. The rest were not represented.
"We are still hunting for five more individuals, one each from Singapore, the Philippines, Malaysia and two Myanmar nationals," said Mohamad Jalaluddin, the investigating police officer in the case[34],[35].
About 60% of Malaysia's nearly 30 million people are Muslim ethnic Malays. Yearnings for greater freedom of expression in the multi-cultural country had increasingly bumped up against conservative attitudes among Muslims and the country's long-time authoritarian government. In a separate case, a male and female model were fined the same week after taking part in a public photo shoot in the northern city of Ipoh clad only in their underwear.
Trial of 4 nudists postponed to 19 March 2015
[
edit
|
edit source
]
On 20 January 2014, Magistrate Nurul Rasyidah Mohd Akit fixed the date 19 March 2015 for the re-mention of the four nudists who claimed trial after counsel V Parthipan requested a new date to enable the defence to study a video which it had only recently obtained from the prosecution. The lawyer was representing one of the accused, Txx Gxxx Hxxx while the other three were defended by Gobind Singh Deo who was not present and who designated Parthipan to speak on his behalf. The prosecution was conducted by deputy public prosecutor Edward Chan who said it had received the forensics report and two copies of the 5.25-minute long video titled "Penang Nude Sports Game 2014" which was uploaded onto video-sharing website Vimeo.
Organiser regrets uploading video after release from jail
[
edit
|
edit source
]
On Sunday, 22 March 2015, The New Paper published an article based on an interview conducted on Thursday, 19 March 2015 by reporter Ng Jun Sen with the organiser of the Penang Nude Sports Games Axxxxx Yxxx after his release from Penang state prison on Friday, 26 December 2014.
Yxx expressed a few regrets. He regretted uploading videos of the event to Vimeo, which drew outrage from Malaysian politicians and netizens. He also regretted surrendering to the Malaysian police as he claimed he got the short end of the stick.
But there was one thing which he is not remorseful for: being a nudist. The 47 year old said, "I have no regrets being a nudist. There's nothing wrong with it. "Only thing I regret is going to Malaysia to do it. In Thailand or Indonesia, we would have no problems at all."
Since his return to Singapore on 2 January 2014, he said he had been depressed. Not only did he lose weight, the avid marathoner revealed his health declined and he no longer had the fitness to run marathons.
His voice softened when asked about his prison experience: "It was horrible. They put the sick inmates with the healthy ones, and there were also cases of scurvy." Mr Yxx, a stalwart nudist who picked it up because of its "natural benefits", says the prison conditions were too much for him to bear.
He regretted surrendering to the Malaysian authorities. He was told it was a minor offence and surrendering would help his plea. "I didn't expect so much jail time. I suffered a lot in there," recalled the de facto leader of SgNudClub, a Yahoo online group for local naturists. Naturism is another name for nudism. The two words were used interchangeably, he explained.
Several of the members then shunned him and blamed him for causing the furore when he uploaded the video of the Penang event to Vimeo. He had uploaded other videos before, so he was stumped as to why the latest video got him and his members in trouble. Some in his circle of friends and colleagues who did not know about his habits before then questioned him about his activities. While out and about, he said people recognised him from the videos and talked about him behind his back.
He remarked, "I don't hear what they say about me, but I know they're talking about the naked pictures and saying all sorts of ugly things about me." He explained that the videos were meant to promote another nudist event in December 2014 and were for the members' private viewing. The event was eventually cancelled because of the case. He did not expect the videos to be shared with the public and become viral.
"Malaysians and Singaporeans have conservative views on nudism and cannot accept it yet. They think it is immoral, but I believe there is nothing wrong with embracing our natural self." Public nudity was illegal in both countries, a fact Mr Yxx knew well.
Nudists in Singapore skirted around the law by holding indoor events away from the public eye. "We have yoga sessions, pot luck dinners, karaoke and mahjong sessions all done in the nude. But sometimes, members also want to do these activities outdoors." So, they would pick secluded beaches in Singapore to meet up.
No sex is allowed in these events as it goes against the ideals of naturism, Mr Yxx elaborated. However, he admitted that in reality, it is difficult to enforce the no-sex rule once the event ended. "I can't stop people from hooking up after that. It's their choice. But it is not right and my role was to advocate the right way to them," he added.
That is why he did not rebut people when they said the events were sex orgies or were meant for hooking up. "I agree with them. I would say that 90% of naturists here have the wrong intentions, but I will try to correct them," he revealed. He estimated that there were about 100 active nudists here, aged between 17 and 70.
For the time being, Mr Yxx had chosen to lie low and avoid taking part in nudist events. He wanted to focus on his new career in the service industry, and his family. His wife and 3 daughters had seen the video. "My wife and my daughters are not naturists but they have been supportive of me and my hobbies, even before my arrest," he said, adding that he was thankful that his daughters' classmates and friends had yet to join the dots. "I don't want my daughters to be bullied because of me. Maybe I'll start doing it again only when nudism is more accepted here."
Trial: Park patrolman gave nudists permission
[
edit
|
edit source
]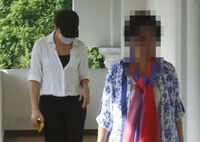 On 16 March 2016, four of the nudists, three women and a man, all Malaysian citizens, who participated in the event in 2014 and who claimed trial finally had their case heard in a magistrate's court in Balik Pulau, Penang. General worker Sharudin Isa, 41, a Penang National Park employee testified that he allowed a woman to go nude provided there were no other tourists at Teluk Kampi beach in Teluk Bahang[36]. Sharudin said the woman made the request on behalf of about 15 people at the beach on 30 May 2014. "She had first asked to camp for the night and use the nearby hall. She later asked for permission to go nude. I allowed it, with condition that there were no other tourists present. On that day, they were the only tourists there," recalled Sharudin before identifying the woman as Cxxx Txx Hxx, 59, who was seated in the dock during examination-in-chief by DPP Shafiq Mahadi.
Sharudin said he was assigned for surveillance duties at the control post which was some 10 metres away from the beach where 15 of them went nude. He also identified three others - Cxxx Cxxx Wxxn, 29, Txxh Gxxx Hxxx, 39, and Kxxx Mxxx Lxxx, 40 - who were in the dock as among the people involved in the nudity. "After I saw the pictures and the accused, it triggered my memory and I remembered them," he added. The four were charged with six others under Section 294(a) of the Malaysian Penal Code with committing obscene acts at a public space in Teluk Bahang which caused public unrest from 3pm to 6pm on 30 May 2014. The offence carried a maximum three-month jail term or a fine, or both, upon conviction. Magistrate Nur Azzuin Abdul Moati also approved the request of DPP Shafiq in court yesterday to amend the time of the joint charge from 3pm to 11pm instead of 6pm previously. Lawyers Jason Khor represented Txx while counsel Haijan Omar acted for the other three accused.
On 6 May 2016, a second hearing of the case took place during which the four nudists changed their plea and admitted to the offence. They were each fined RM5,000 but not given any jail sentences unlike the 6 nudists who had earlier pleaded guilty in 2014. Perhaps this was because their defence counsel relied on the testimony of the Penang National Park employee who gave them permission. Balik Pulau OCPD Supt Lai Fah Hin told The Star Online that all four were released upon paying their fine[37].

This article was written by Roy Tan.
Community content is available under
CC-BY-SA
unless otherwise noted.