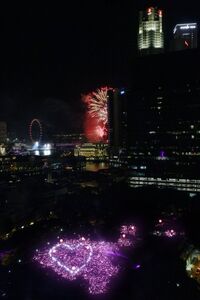 Pink Dot 2014, the sixth iteration of Singapore's annual LGBT pride gathering, was held on the evening of 28 June, attracting a record turnout of 26,000 people. The theme for the year's event was "For Family, For Friends, For Love", which highlighted the LGBT community's contributions to society. Its theme song was, relevantly, the massive Sister Sledge hit "We Are Family".[1] In addition to the traditional Pink Dot formation with torches, 2014's event included a bright pink heart formation within the Pink Dot itself. Pink Dot 2014 also featured for the first time, a "Community Voices" segment in which local LGBT individuals and straight allies were invited to speak and share their stories.

Campaign video
[
]
Ambassadors and supporters
[
]
Ambassadors of the event included Broadway performer Sebastian Tan, actor Brendon Fernandez and Nominated Member of Parliament Janice Koh.[1] Taiwan-based Singaporean Pop Idol Stefanie Sun also supported the event through a 20-second video.[2] Local YouTube stars Tree Potatoes made a shout-out in a video. Pink Dot SG 2014 saw energy company giant BP and multinational banking firm Goldman Sachs join a growing list of corporate sponsors.[3]
Mandopop diva, Stefanie Sun, voiced her support for the event in a video produced by Pink Dot with the caption, "Stefanie Sun supports the Freedom to Love! 孙燕姿支持爱的自由"[2]:
Wear White campaign
[
]
Main article: Wear White
Pink Dot 2014 drew strong criticism from Singapore's Muslim and Christian communities which counter-demonstrated in a "Wear White" event, in which participants dressed in white apparel to protest against homosexuality and to defend traditional family values. In response, and foreseeing possible unruly behaviour, Pink Dot organisers deployed security personnel for the first time.[4] Local media covered the controversy with full-page articles and the event itself was widely reported by foreign media.[5][6][7][8][9][10][11]

On 21 June 2014, Minister-in-charge of Muslim Affairs, Yaacob Ibrahim, said that in a multicultural society such as Singapore's, there were bound to be differences of opinion and it was therefore important to work in a spirit of quiet consultation and accommodation in dealing with such differences[3]:
Event proper
[
]
Event climax (countdown and lightup) and teaser to the full official event video, 28 June 2014[4]:
Official event video, 28 June 2014[5]:
The movement supporting the Freedom to Love made a dramatic statement of solidarity on the night of Saturday, 28 June 2014. An astounding 26,000 Singaporeans and Permanent Residents (PRs) – more than ten times the number of the inaugural 2009 event – made a dramatic statement of solidarity on the event night, turning the green space of Speakers' Corner into a shimmering expanse of bright pink lights – crowned by a touching outline of a giant heart beating within the formation[6]. 2014 marked a coming of age for the movement that has championed inclusivity and diversity amid an increasingly volatile social landscape.
Paerin Choa, spokesperson for Pink Dot said: "It is very heartening to see the dot growing year on year. We believe that this sends a strong message of love and acceptance, affirming that Singapore is a home for one and all, regardless of race, religion, sexual orientation or gender identity. We are, at the end of the day, one big national Family, and it is especially humbling this year, to see the sheer support we have received from Singaporeans from all walks of life."
Led by the year's ambassadors, Pink Dot 2014 went back to its roots by shining the light on the community and their perspectives on what the Freedom to Love means to them. The event kicked off with the inaugural Community Voices segment, where invited speakers from the LGBT community, and straight allies, shared stories on their personal challenges and touched on their hopes and dreams for a better and more compassionate Singapore.

Speakers included blogger and social commentator, Mr Miyagi; urban artist, Samantha Lo, known to many as SKLO; Leow Yangfa, Deputy Director of LGBT support group Oogachaga; lawyer and notable human rights advocate, M Ravi; outspoken university student and social volunteer, Melissa Tsang; Fanny Ler, a transgender woman, and her husband, Zack Ling.
This was followed by the Pink Dot concert, which saw home-grown talents such as stage veterans Sebastian Tan as Broadway Beng, and Selena Tan; music producer and performer Don Richmond joined solo artiste Roze Kasmani, award-winning industrial progressive-rock band The Voodoo Sound, capping of with Ugly in the Morning featuring Pam Oei. Internationally renowned DJ Aldrin set the tone with his signatures beats, with the Singapore Men's Chorus taking stage as guest performers to sing the National Anthem, marking the commencement of the concert.
The community factor was further strengthened with the Community Tent, established as a focal point for Singapore's diverse array of LGBT and LGBT-friendly organisations such asOogachaga, Young Out Here, Pelangi Pride Centre, The Purple Alliance, MARUAH, The Humanist Society and The Bear Project, among others.
Pink Dot 2014's corporate contributors also made a strong showing at the event, with contingents from giants Google, Barclays, J P Morgan, Goldman Sachs and BP adding colour to the pink-tinged landscape. Contact lens brand CooperVision made a shining statement with its sponsorship of all pink torches, while The Gunnery's sound system ensured everyone was kept entertained throughout. Finally, PARKROYAL on Pickering provided the perfect backdrop for the event for photos opportunities and interviews. This is the strongest indication yet of Corporate Singapore's growing support of an all-inclusive society.
The event culminated at sunset when participants all came together to form a shimmering, giant Pink Dot with torches, mobile phones and light sticks. In a touching departure from tradition, the giant dot formation this year included an outline of a heart, situated quite literally in the 'heart' of the dot – creating a symbol of love and inclusivity.
Community Voices
[
]
Melissa Tsang
[
]
Transcript[7]:
"LGBT folk, queer, non binary, asexual, polyamorous friends - perverts of every stripe, and the people who associate with us! I'm incredibly happy to be here for the 4th time.
I think a lot has been said about religion and sexuality. But in the end the people who have a much bigger impact on the lives of LGBT people, are the -majority-, and that includes you, our allies, friends, and families.
The state relies on a conservative majority to justify inaction, as much as some prominent figures draw gesture at a conservative majority in family-friendly rhetoric.
LGBT allies - I strongly encourage you not to be conservative. And I don't mean "conservative" as a belief or a feeling, I mean conservative as an attitude of silence and reservation.
Conservative is when our friends, family, and allies say they support LGBT people, but don't stand up in the small instances when it really counts. I get that it's often inconvenient and uncomfortable. It's more trouble to correct your best friend who uses "she-male" in a sentence, than it is to put your name on a petition.
But that's exactly what solidarity is, sometimes it's not convenient, sometimes it's not comfortable, and sometimes it's a lot of trouble. It's a constant process of education and interaction, because good intentions are nice, but good intentions have done fuck all for anybody.
But every time you stop the gay joke before the punchline, every time you tell a friend it's not okay to shame a transgender sex worker, every time you use gender neutral pronouns at your workplace - someone is listening. You're saying that homophobic and transphobic behavior is no longer acceptable, at least not on your watch. And you're creating an environment that protects queer people without demanding that they come out.
And these are the things that matter. We want a community in which homophobic and transphobic slurs no longer have their sting. We want a community in which bigotry is no longer a weapon, but is reduced to a joke.
Thank you again for being here, have a great evening, and take care of one another."
See also
[
]
References
[
]
Acknowledgements
[
]
This article was written by Roy Tan.