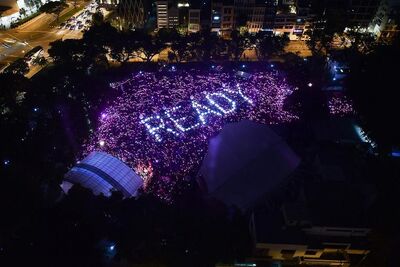 The Pink Dot SG gathering held in 2018 was officially called Pink Dot 10 as it was a more catchy label and also to mark the tenth year that the gathering was taking place. A new subsidiary event dubbed Pink Fest, which included movie screenings, walking tours and book readings, was organised for the first time and held two weeks before the actual rally at Hong Lim Park on Saturday, 21 July 2018 as a lead up to it.
The word "READY" was used in the final light up to signify that Singapore was ready for the repeal of Section 377A of the Penal Code which criminalised sex between men. It was the first time that an overtly political rallying message was used in the event's history, in departure from the softer, family-friendly messaging of supporting the "freedom to love" employed in previous years.

Ambassador & campaign video launch event
[
]
Campaign videos
[
]
For the first time, not one but three heart-wrenching campaign videos and a cumulative ambassador group video were made by various production teams.
Woke in Progress[2]

"Remember the petition to lower the rating of Love, Simon that went viral? Meet Thasha, the teenager who got the ball rolling when an innocuous coming-of-age rom-com that she and her friends were looking forward to catch was rated R21."
Credits: Director - Christopher Khor; Producer - Colin Toh; Director of Photography - Bruce Lim T.C; 1st Assistant Director - Sally Lee; Editor - Mun Ng; Sound Recordist - Bruce Lim T.C & See Tongwai; Hair and Makeup - Christina Koh; Production Assistant - Shareen Seng & Joanne Vernadene; Post Production - Mocha Chai Laboratories; Post Production Produce - ZhiQi Yeo; Colourist - Mark Song; Colourist Assistant - Jerlyn Koh; Audio Post Production Producer - Azmi Jaffar; Music Composer - Ben Rosen; Sound Engineer - Eddie Lim.
Building Bridges[3]

"Stalwart straight supporters, the mother and daughter team of Dolly and Sam, have been tireless volunteers at Pink Dot for a long time. Find out the reasons that keep them coming back year after year, and what their hopes are for both the straight and LGBTQ communities."
Credits: Director - Quenyee Wong; Producer - Tan Jia Yu; Director of Photography - Hanafi Haffidz; Editor - Grace Xiao; Post Production - GRAVITATE; Colourist - Azman Mohamed; Online Artist - Perri Malacaman; Post Production Producer - Shahril Ahmad; Audio Post Production Producer - Azmi Jaffar; Music Composer - Paul Searles; Sound Engineer - Eddie Lim.
Home Truths[4]

"What is it like to grow up grappling with gender in a Malay Muslim family, and to live and love as a human being confronting mortality? Listen to the story of how Faiz is making every moment of life count."
Credits: Director - He Shuming; Producer - Tan Jia Yu; Associate Producer - Kevin Nicholas Wong; Director of Photography - Nur Zahirah Binte Rosdan & Ashley Tan; Sound Recordist - Samantha Chuan Wei Yee Vin; Post Production - KRAFTW5RKZ; Editors - Timothy Tan, Yong & Chap Heng; Post Production Producer - Bernard Tay; Post Production - GRAVITATE; Colourist - Azman Mohamed; Online Artist - Pinky C. Vierra; Post Production Producer - Shahril Ahmad; Audio Post Production Producer - Azmi Jaffar; Music Composer - Paul Searles; Sound Engineer - Eddie Lim.
Ambassadors[5]

"A gathering of Pink Dot ambassadors from the past 9 years - hear what Pam Oei, Neo Swee Lin, HIRZI, Anita Kapoor among others have to say about their Pink Dot journeys and what they stand for."
Credits: Produced by Fiction Shore; Director - Koo Chia Meng; Producer - Xu Xin'en; Videographer - Kevin Yeoh.
https://www.youtube.com/watch?v=VEfdcQqtvi0&feature=youtu.be
Pink Fest
[
]
Pink Dot 2018 was expanded to include movie screenings, walking tours and book readings that everyone, including foreigners, could attend two weeks before the flagship event on 21 July 2018[6]. In March 2018, Pink Dot had posted a call for proposals from people who wanted to organise LGBT-related events to support its cause. "As we celebrate this important milestone, we want to call on every Singaporean who seeks a more open-minded and inclusive Singapore to stand with us," said spokesman Paerin Choa, in announcing plans on Tuesday, 22 May 2018 for Pink Fest. The organisation said Pink Fest involved 20 private events held within private premises. They were put together by individuals and not Pink Dot itself.
On its website, Pink Dot listed a series of questions and answers related to Pink Fest. In response to whether the new activities were a way to circumvent the ban on foreigners attending the rally, it said: "This is separate from the Pink Dot rally that takes place at Hong Lim Park. Moreover, inclusion has always been the hallmark of Pink Dot. We recognise the support many of our foreign friends have given us. Pink Fest is a showcase for the community by the community, and our foreign friends are as much a part of this community as we are."
Following changes to the Public Order Act in October 2016, organisers of Speakers' Corner events had had to ensure only citizens of Singapore or permanent residents of Singapore participate in the assembly or procession. The previous year, at Pink Dot 2017, which drew 20,0000 Singaporeans and permanent residents, the park was barricaded for the first time.
Choa said about 65 local sponsors had so far pledged their support for the cause. In 2017, 120 local firms raised some $240,000 but Choa expected a bigger bill in 2018 year for the construction of a stage at Hong Lim Park, among other things. "We have to build our own stage, and that has raised costs," he said. "We want people who are coming for the first time to have the same experience as those who came in previous years."
Event proper
[
]
Hong Lim Park was a sea of pink on Saturday, 21 July 2018 as the LGBT community and their supporters gathered to celebrate the 10th iteration of Pink Dot SG[7]. Among those who turned up was Zi Qin Ging, 24, a barista. She said: "Pink Dot means a lot to me because it is a platform for people to come together to support the community." It was the second year Ging had volunteered at the rally, which marked the culmination of a series of events in 2018 to raise awareness about and celebrate the cause. The activities and events, branded as Pink Fest, included movie screenings and tours.
There was a photo exhibition featuring LGBT individuals in Singapore at the Intermission Bar in Golden Mile Tower. The portraits in the Out in Singapore exhibition were shot by prominent Singaporean photographer Leslie Kee. Among the notable names featured were director Glen Goei, 55, and Li Huanwu, 31, grandson of founding prime minister Lee Kuan Yew. Li, a general manager, was photographed with his partner, veterinarian Heng Yi Rui, 27. Li's father is Lee Hsien Yang. The exhibition was on till 29 July 2018.
Paerin Choa, 42, a spokesman and volunteer who had been with the Pink Dot movement since its inception in 2009, said the traction gained over the years surpassed his expectations. He said: "When we first started out in 2009, we had hoped to fill the park in 10 years, but just three years in, in 2011, the park was already full." Choa recounted how 2011 marked their turning point, when Google came on board as a corporate sponsor. Since then, the movement had grown in attendance and sponsorships - in 2018, it garnered 113 local sponsors.
The growth came amid challenges, including a change in policy in 2016 that barred multinational corporations such as Google and Facebook from sponsoring the event, as well as resistance from segments of society. Speaking about Pink Dot's future, the organisers said they would continue to work on Pink Fest and to ensure that the conversation expanded beyond the day itself. They added the ideal future would be one in which holding Pink Dot was no longer necessary. Similarly, volunteer Ging said: "Ideally, we would not even need it if only people could love and accept each other as equals."
Theme song
[
]
See also
[
]
References
[
]
Acknowledgements
[
]
This article was written by Roy Tan.