Owing to breakout of the Covid-19 pandemic, Pink Dot 2020, also called Pink Dot 12 as it was the twelfth time the event was being held, was livestreamed over YouTube at 8pm on Saturday, 27 June 2020[1]. The final recorded video received more than 11,000 views on Facebook.
Campaign video
[
]
Because of the 'circuit breaker' (Singapore's terminology for a partial lockdown) enforced by the Government to flatten the incidence of infection curve of the Covid-19 outbreak, large gatherings at Hong Lim Park were banned. To circumvent the restriction, the organisers called upon everyone to stand with them by putting on pink lights in their homes and workplaces, as Pink Dot would for the first time, take place all over Singapore on 27 June 2020[2]. These pink lights would act as beacons of love and solidarity for LGBTQ people in the country. They would also serve as a reminder that support for LGBTQ rights and the Freedom to Love must persevere, even as their annual gathering at Hong Lim Park could not go on. They hoped that the spirit of Pink Dot 12 would continue to shine throughout the land – in their homes, in their workplaces, in their hearts.
Petition to give event 'R' rating
[
]
Two petitions on campaigning site Change.org, both started by a user named WS Lin, called on the Government to assign the livestream event a "restricted" rating to prevent children from watching it and to keep the event "out of homes and workplaces"[3]. The petitions were started over the weekend beginning on 22 June 2020 and had received at least 25,000 signatures combined. However, on Wednesday, 24 June 2020, the Ministry of Social and Family Development (MSF) announced that the event did not contravene any laws or regulations. It added that the Government had nonetheless "engaged the organisers of Pink Dot and urged them to exercise restraint and be sensitive to the views of others in the community, the majority of whom wish to maintain the traditional family unit as the social norm. Our laws and policies reflect these norms."
The event had been livestreamed in past years but the event in 2020 event would be held only online due to the Covid-19 pandemic. The MSF also acknowledged in a statement that the 2020 event was not the first time Pink Dot would be livestreamed, although the ministry did not directly address the petitions. "The traditional family unit remains the bedrock of our society. At the same time, we recognise that LGBT individuals are part of our society, and they are free to lead their private lives and welcome to contribute fully to our society," the ministry's statement affirmed. "We urge all parties to be respectful and civil to each other, and avoid stridently pushing their priorities and boundaries, especially now when we need, more than ever, to maintain unity and harmony in society."
Pink Dot organisers explained that the livestream event was focused on "supporting the more vulnerable in the LGBTQ community who are experiencing mental and emotional stress brought about by isolation". They noted that many members of the LGBTQ community, especially younger ones, were cut off from their support networks during the two-month circuit breaker period in which people were advised to stay at home to stem the spread of Covid-19 here. They hoped the LGBTQ community could feel "seen, heard and loved during these tough times" through the livestream.
Event video
[
]
The programme included short films, a music video and a documentary centred on issues affecting the LGBT community. It also featured local personalities Patricia Mok, Pam Oei and Harris Zaidi. Local performers Charlie Lim, Joanna Dong and Mathilda D'Silva also participated in the event.
Organisers invited business owners and households to display pink lights during the month of June to show support to the LGBTQ community. Supporters were encouraged to tune in online on Pink Dot's website. However, owing to an unforeseen technical glitch, which some members of the LGBT community attributed to an attack on the website by homophobes, the live feed was inaccessible to many and viewers were directed to Pink Dot's channel on YouTube instead where the stream was functioning well. The audience was also invited to sign up online to leave messages of love and support and to select a location to represent where they were participating from. These spots were collectively displayed as a digital map of Singapore glowing pink at the end of the livestream[4].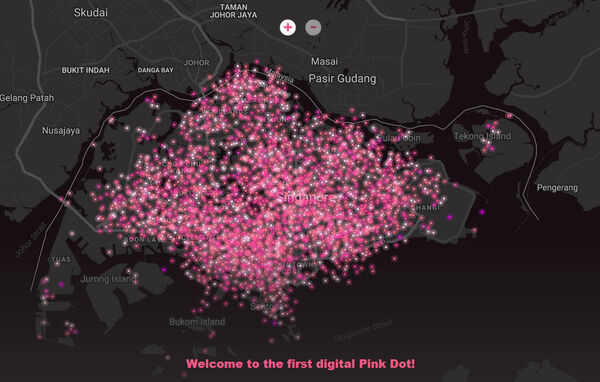 A short, animated post-countdown video was made of the virtual light up[5]:
Pink Dot SG spokesman Clement Tan, who noted that Pink Dot had a large following among young people in Singapore, said: "LGBTQ youths in hostile home environments have been particularly affected during this pandemic, and they need to know that there are people in Singapore who love and support them. We are grateful for all of the support shown by allies this year, who are setting a great example of how a strong community is built on compassion, love and open-mindedness; not one divided by fear or ignorance."
Community and LGBT ally support
[
]
Free Community Church
[
]
See also
[
]
References
[
]
Acknowledgements
[
]
This article was written by Roy Tan.