Pink Dot 2021, held on Saturday, 12 June 2021, was officially called Pink Dot 13 because it was the thirteenth iteration of the annual event. For the second year running, the proceedings were forced to be held completely online because of the ongoing Covid-19 pandemic and a resurgence in the incidence of local community infections with newer viral variants of concern. This spurred the Government to institute a so-called "Phase 2 (Heightened Alert)"[1] partial lockdown.
Pink Fest 2021
[
]
A calendar of all events was made downloadable as an ICS file:[2] by the Pink Fest website:[3].
Heart Truths - Talking to Christians about LGBTQ Issues
[
]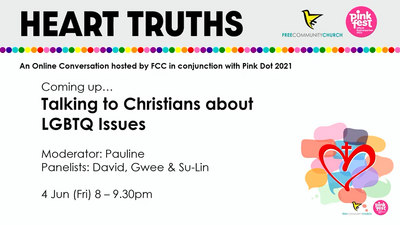 Video caption:
"As part of the 2021 PinkFest season in Singapore, "Heart Truths" is an online conversation series exploring this question: "What does it mean for an LGBTQ+ Christian to lead an abundant life?"
You will hear testimonies of the trials and triumphs faced by the queer Christian community. Hosted by the Free Community Church and being an inclusive church, we have also invited supportive allies in relevant discussion.
Come and be inspired by stories of hope and resilience on how others have struggled and flourished.
Featuring both gay and straight folk who've got extensive experience engaging other Christians with LGBTQ+ issues, this will be an interesting discussion for all.
More than just using Scripture to hammer one another, we will learn about what the panelists did and said in their effort to dialogue with friends and family who disagreed with their queer affirming stance.
Join us on this important discussion even as our community becomes even more polarised today."

Prident webinar: HDB Home Ownership for LGBTQ+
[
]
On the 10 June 2021, Prident organised a webinar as part of the Pink Fest program line up[5]. Co-founder and realtor William Tan shared information about planning and buying an HDB flat in Singapore as an LGBTQ+ member. Insightful case studies touching on unique situation faced by the community. Also guest speaker Daniel Ng from UOB talks about home mortgage financing and comparison of HDB loan vs Bank loan[6].
Parody homophobic video
[
]
On 10 June 2021, The Mockingbird News Channel uploaded a video to YouTube parodying homophobic protests against Pink Dot that year[7]:
Red Dot for Pink Dot
[
]
Pink Dot 2021
[
]
Campaign video
[
]
The Pink Dot 2021 campaign video, entitled "Let Light Lead The Way", was uploaded to Pink Dot SG's YouTube channel[8] and Facebook[9] page on 7 May 2021.
Video caption:
"In the past year, our nation bore witness to continued acts of discrimination against the LGBTQ community and its allies. From a Pride flag being ripped from the countertop of a local eatery and thrown at the staff, to the Reddit post that documented the traumatic experience of a transgender student in the Singapore school system— these events serve as a reminder that more needs to be done to foster love and understanding for everyone in Singapore. We invite all Singaporeans to once again light up their homes and businesses in pink — to stand in solidarity with the LGBTQ community and to help those who are isolated during this pandemic feel less alone."
Live stream
[
]
The event was live streamed on YouTube at 8pm and hosted by Pam Oei and Harris Zaidi. It was filled with a lineup of performances, interactive discussions[10].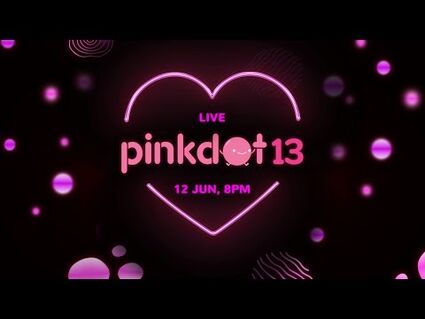 The show also showcased heartwarming stories of individuals coming out and touched on the issue of Section 377A of the Penal Code[11]. Preeti Nair broke down each letter of the LGBTQ+ acronym and highlighted the community's advocacy and beliefs based on each letter.
Two stories from individuals who came out shed some light on the importance of support from family and loved ones. "I think if we have a safe space, where people can express themselves, speak their minds, learn from others, you'll learn about yourself and decide for yourself the journey you want to take," said Quen Wong, whose short film and story were featured in the live stream.
What followed was a performance by musical artist Joshua Simon, who is also one of the hosts of The SG Boys, a forerunner in LGBTQ+ podcasts in Singapore.
Andrea Razali, the first Singaporean transwoman to appear on international publications like L'Officiel and The New York Times Style Magazine, was the first guest on the show. She was also crowned Miss International Queen Singapore 2020. Andrea shared her coming out experience, noting that the country's "education system does not work in favour of trans youth." "I feel like Singaporean trans youth have to basically put themselves aside, put their dreams of becoming themselves and their true selves aside in order to finish education." She also used her entrepreneurial platform in the beauty industry to speak up for her community.
The next featured story was that of Alaric Tan, a 42 year-old gay man and founder of The Greenhouse, a platform that offered support and recovery for those isolated in the community.
The following segment of the event provided some insight into how the LGBTQ+ community transformed throughout the last three generations. "Growing up in the 1960s and being gay, you just lived with it," said 70 year-old Russell Heng, who worked with The Straits Times and came out to former Prime Minister Lee Kuan Yew over lunch that he was gay. He mentioned how the term "gay" only meant "to be happy" back in his time. Regardless of the period, the goal of inclusivity remained the same.
Lawyer Remy Choo was a guest at the show, and he explained how Section 377A of the Penal Code, which criminalised sex between men, was not consistent with the Constitution. Singapore was one out of 69 countries that still kept laws such as Section 377A, said Choo while explaining that other countries had stopped implementing this law. Choo was also one of the lawyers behind three men who took to the High Court on 25 January 2021 challenge Section 377A.
A touching story of a daughter coming out to her father and the latter showing unconditional support moved many of the online audience to tears.
Musical performances by Charlie Lim, Qyo, aeriqah & RENE, Singapura Queens and the NeoKELELims were also featured in the concert.
Virtual light up
[
]
See also
[
]
References
[
]
Acknowledgements
[
]
This article was written by Roy Tan.