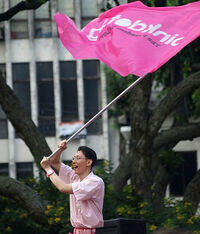 Roy Tan (born 1958) is a healthcare professional passionately interested in documenting Singapore's LGBT history.
He has been one of the most active contributors of local LGBT-related news articles to the Singapore gay news list (SiGNeL)[2] since the latter's formation and has continued his archival work on the Singapore LGBT media archive (SLEMA)[3] since 2015.
Tan has also recorded and uploaded the most comprehensive collection of local LGBT videos to his two YouTube channels - Homosexuality in Singapore[4] and Transgender people in Singapore[5].
First Singapore LGBT articles on Wikipedia
Edit
In 2005, Tan realised the potential of the then nascent and relatively unknown Wikipedia in informing local mainstream society and the world at large about Singapore's LGBT culture and history.
The advantage of Wikipedia was that knowledgeable contributors could consolidate widely scattered pockets of information into a one-stop reference site. This was unlike any Singaporean LGBT website that had existed before like Yawning Bread, Fridae or Trevvy in which only authorised writers could pen articles.
Tan created the first Singapore LGBT-related Wikipedia article entitled "Singapore gay movement" on 12 April 2005. He subsequently started all the other articles on Singaporean LGBT culture there in the ensuing months.
Howevever, his hope that other contributors would chip in and expand the articles he pioneered was not realised and he ended up doing most of the updating himself. Moreover, many Singaporean editors of Wikipedia were homophobic and deleted entire articles or huge chunks of extant articles, claiming that they were not significant enough for a prestigious reference work such as Wikipedia.
In dismay, Tan looked for an alternative site to transfer the articles to. He was overjoyed when he found SgWiki, a site hosted on a local server and which used the same wiki markup language as Wikipedia. He then ported all the articles in September 2005 to SgWiki[6], which had a more liberal and LGBT-friendly policy. Even then, some articles deemed sensitive because they rebutted religious condemnation of homosexuality were also deleted by SgWiki's administrators.
Another drawback was that articles on SgWiki did not rank as high up on Google and other search engines as the much more globally popular Wikipedia.
Tan also replicated all the Singapore LGBT-related articles on user-constructed knowledge sites such as the now-defunct Knol (an initiative of Google) and on other wikis such as the PBwiki[7] and Wikidot[8](now also defunct). These websites enabled registered users to have complete editorial control over their articles and not be subjected to the whims of appointed editors. However, these wikis used different markup languages from Wikipedia, therefore making porting articles much more difficult than just copying and pasting. The articles first had to be translated to the different wiki language used by the site.
In 2012, Tan searched for and managed to find websites such as the still extant Shoutwiki[9], as well as others like Wikia[10] which used the same wiki markup language as Wikipedia. He then transplanted all the SgWiki articles to these sites - easily accomplished by direct copying and pasting with no translation required.
Singapore LGBT video channels on YouTube
Edit
Tan has also recorded and amassed the most comprehensive collection of local LGBT videos on YouTube, divided into 2 channels because they dealt with separate sets of issues - "Homosexuality in Singapore"[11] and "Transgender people in Singapore"[12].
First outdoor LGBT speech in Singapore
Edit
Tan delivered Singapore's first outdoor LGBT-themed speech to an overwhelmingly straight audience at Hong Lim Park at 5:15pm on Saturday, 13 December 2008. He spoke on the discrimination which gay Singaporeans faced at work. The event was organised by MARUAH and entitled, "Human Rights and Dignity of Workers". It marked the 60th anniversary of the Universal Declaration of Human Rights, which promoted the values of justice, fairness, equality and non-discrimination.
Registration of first LGBT pride parade and Pink Dot
Edit
Tan registered to hold Singapore's first LGBT pride parade at Speakers' Corner on 15 November 2008[13],[14][15],[16],[17],[18] after the government legalised protests there. This later morphed into Pink Dot SG[19][20],[21],[22][23],[24], an event which supported the "freedom to love" and which later spread worldwide.
First gay Chingay contingent
Edit
Together with fellow citizen Tien Kim Chuan, Tan marched in Singapore's first and only gay Chingay contingent when the public were allowed to form their own marching group in 2010[25],[26].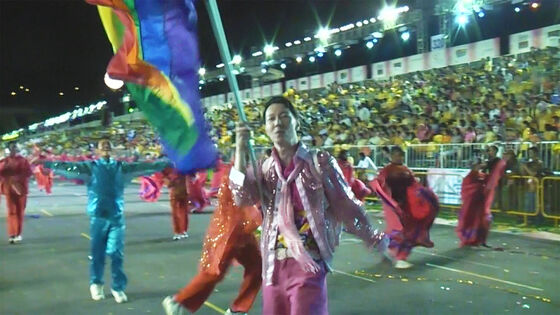 Internet TV interview on homosexuality
Edit
On 31 August 2012, Singapore Internet TV station in988 interviewed Tan on the subject of homosexuality. It was the longest interview conducted with a medically qualified doctor in Singapore on the topic uploaded the Internet to date. The following clip is an excerpt of it[27].
Well known showbusiness celebrities Abigail Chay and Roger Poon were in the studio.
Section 377A constitutional challenge
Edit
On Friday, 20 September 2019, Tan, then 61 years of age and retired as a GP, filed a new constitutional challenge in the High Court against Section 377A of the Penal Code which criminalises sex between men. He was represented by lawyer M Ravi from Carson Law Chambers. The Attorney-General (AG) was listed as the defendant.
According to Tan, his challenge was based on "novel arguments". For example, the Public Prosecutor had discretion on whether or not to prosecute an accused person under Section 377A and the Government had said that the law would not be enforced against acts done in private. This was incongruous with Section 14 of the Criminal Procedure Code, which requires the police to unconditionally investigate all complaints of suspected arrestable offences. "This subjects gay men to the potential distress of an investigation into private conduct where they have a legitimate expectation that the state will decline to prosecute. It represents not only a contradiction between the Public Prosecutor's prosecutorial discretion and the non-discretionary carriage of criminal justice on the ground but is also a restriction on their personal liberty, which is not consistent with Article 9(1) of the Constitution."
A pre-trial conference was set for 8 October 2019. The case sought to challenge the Court of Appeal's previous ruling in 2014 that Section 377A was constitutional. The 3-judge Court of Appeal had then rejected two separate challenges by Tan Eng Hong, who was also represented then by M Ravi, and a gay couple, Gary Lim and Kenneth Chee. The highest court in Singapore upheld Section 377A, rejecting arguments that the provision contravened the Constitution. The court held that Section 377A did not violate Article 9 as the phrase "life and liberty" referred only to the personal liberty of a person from unlawful incarceration and not to the right of privacy and personal autonomy.
As for Article 12, the court held that Section 377A passed a test used by the courts in determining whether a law complied with the constitutional right of equality. In Singapore, the courts had used the "reasonable classification test" to determine whether a statute that differentiated was consistent with Article 12. Under this test, a statute that differentiated was constitutional if the classification was based on an "intelligible differentia" – a discernible distinguishing feature shared by those who were treated differently – and if the differentia bore a rational relation to the objective of the law. The court held in 2014 that the classification prescribed by Section 377A - men who performed acts of gross indecency with other men - was based on an intelligible differentia.
The court also ruled that Section 377A fell outside the scope of Article 12, which forbids discrimination of citizens on grounds including religion, race and place of birth. The court observed that Article 12 did not contain the words "gender", "sex" and "sexual orientation", which related to Section 377A. Tan felt that the court had erred in ruling that Section 377A passed the test and disputed that the law was based on an intelligible differentia. He said acts of "gross indecency" may take place between men only, women only and a mix of men and women, but "such acts cannot be meaningfully distinguished across the three classes". "However, Section 377A only proscribes acts between males. There is therefore no intelligible differentia as Section 377A was intended to proscribe acts of gross indecency," he added.
Tan's application joined two other constitutional challenges against Section 377A then before the courts - one was filed in November 2018 by Bryan Choong, the former executive director of Oogachaga, a non-profit organisation working with the LGBT community and another was filed in September 2018 by disc jockey Johnson Ong Ming, who went by the stage name DJ Big Kid, shortly after India's Supreme Court struck down its analgous law, Section 377 of the Indian Penal Code.
Tan's application was widely reported in the local[28],[29],[30],[31],[32] as well as international media[33],[34],[35],[36],[37],[38],[39].

High Court application for mandatory order compelling Cabinet to move parliamentary bill to repeal 377A
Edit
See also: Remedies in Singapore administrative law
See also: Remedies in Singapore constitutional law
On Tuesday, 1 December 2020, Tan, filed an application in the High Court seeking a declaration that Section 377A of the Penal Code was incongruent and inconsistent with Sections 119 and 176 of the Penal Code, Sections 17 and 424 of the Criminal Procedure Code, Section 9A (1) of the Interpretation Act and Articles 9(1) and 12(1) of the [of the Republic of Singapore]. He also argued that the Attorney-General's position - that it would naturally follow that any prosecution under other provisions which would contradict the non-prosecution stance for male homosexual adults indulging in consensual sex in private would likewise not be in the public interest - rendered Section 377A otiose a fortiori.
Tan, represented by lawyer M Ravi, furthermore sought a mandatory order compelling the members of the Cabinet to move a Bill in Parliament to repeal Section 377A because the latter has become dead letter and its retention in the face of Sections 17 and 424 of the Criminal Procedure Code, Sections 119 and 176 of the Penal Code and Section 9A of the Interpretation Act was unlawful due to the Executive's decision not the enforce Section 377A. Under Section 9A (1) of the Interpretation Act, the courts were required to interpret a written law in a way that promoted the purpose or object underlying that law. Parliament's undertaking not to proactively enforce Section 377A rendered the courts unable to perform their legal obligation.
References
Edit
Rex Wockner, "Pride to be staged in Singapore", Pride Source, 18 September 2008[40].
Kor Kian Beng, "First gay protest at Speakers' Corner?", The Straits Times, 25 September 2008[41].
Andre Yeo, "'Hong Lim Green' to turn somewhat pink", The New Paper, 25 September 2008[42].
PinkDotSg news list on Yahoo!Groups set up by Roy Tan to facilitate discussion amongst Pink Dot committee members, 19 October 2008:[43].
Kor Kian Beng, "Gay protest at Hong Lim Park postponed", The Straits Times, 1 November 2008[44].
Associated Press, "Singapore's Gay Community Holds First-Ever Gay Rally", The New York Times, 16 May 2009[45].
Sharanjit Leyl, "Singapore gays in first public rally", BBC News, 17 May 2009[46].
Nur Dianah Suhaimi, "1,000 turn up in pink at event", The Sunday Times, 17 May 2009[47],[48].
Tng Ying Hui, "A thousand gather to celebrate diversity and the freedom to love", The Online Citizen, 17 May 2009[49].
Lin Yan Qin, "Pink in the name of love", TODAY, 17 May 2009[50][51].
Sylvia Tan, "Singapore's gay community holds first-ever public rally", Fridae, 18 May 2009[52].
"Singapore's gay community holds first-ever rally", Northwest Asian Weekly, 21 May 2009[53].
Sean Foo, "25 Singaporean Heroes Of The LGBT Community Millennials Don't Know About", Dear Straight People, 4 July 2016[54].
Sean Foo, "5 Asians Over The Age Of 40 Reflect On How Growing Up LGBT Was Like For Them", Dear Straight People, 11 October 2016[56].
Ng Yi-Sheng, "A compromising position", Overland, Issue 227, Winter 2017[57].
Rei Kurohi, "LGBT activist and retired GP Roy Tan files new court challenge against Section 377A", 25 September 2019[58].
Low Youjin, "LGBT activist launches fresh High Court challenge to Section 377A", TODAY, 25 September 2019[59].
Staff Writer, "LGBT activist Roy Tan files legal challenge against constitutionality of Section 377A", Yahoo! News, 25 September 2019[60].
AFP, "Singapore activist in new challenge to gay sex ban", Daily Mail, 25 September 2019[61].
Kathleen.F, "LGBTQ advocate and retired practitioner Dr Roy Tan files a constitutional challenge of Section 377A in the Singapore High Court", The Online Citizen, 25 September 2019[62].
Patrick Kelleher, "Fresh battle to decriminalise gay sex launched in Singapore", Pink News, 26 September 2019[63].
Mae Yen Yap, "It's not legal to be gay in Singapore, but it could be soon", Mashable Southeast Asia, 25 September 2019[64].
Michael Taylor, "Retired doctor turns to Singapore's judiciary to scrap gay sex ban", Reuters, 27 September 2019[65].
David Hudson, "Gay sex ban in Singapore challenged by this man's new legal action", Queerty, 26 September 2019[66].
"Singapore gay sex ban: doctor files legal challenge against 'archaic law'", South China Morning Post, 26 September 2019[67].
Obbana Rajah, "Retired doctor championing gay rights legally challenges Section 377A", The Independent SG, 25 September 2019[68].
Steve Brown, "Gay rights activist files legal challenge against law banning sex between men in Singapore", Attitude, 25 September 2019[69].
Mike Hitch, LGBT advocate and retired GP challenges Singapore's gay sex ban, Star Observer, 27 September 2019[70].
External links
Edit
Community content is available under
CC-BY-SA
unless otherwise noted.