It is perhaps premature to talk about legalising same-sex marriage in Singapore when, at a more basic level, Section 377A of the Penal Code still criminalises sex between men.
However, the fact that male homosexual sex remains punishable by a prison term of up to two years under Section 377A, even though the Government has pledged not to enforce the law, has not prevented gay Singaporeans from forging stable long-term relationships and from living together as committed couples.
A survey conducted by the Institute of Policy Studies (IPS) from late 2013 to early 2014 revealed that Singapore remained a largely conservative society with regard to certain social issues such as extramarital sex, living with a partner before marriage, divorce and gambling. When it came to LGBT issues, 78.2% felt that sexual relations between two adults of the same sex was always or almost always wrong[2],[3]. Regarding adoption of children by gay couples, respondents who found it always or almost always wrong fell to 61.1%. 72.9% found gay marriage always or in certain cases wrong while 15.7% thought it was not. It surprised many in the LGBT community to discover that Singaporeans were less opposed to gay adoption and gay marriage than to gay sex.
Overseas civil unions
Edit
See also Archive of The Telegraph article, "Births, deaths and the first civil partnership", 6 December 2005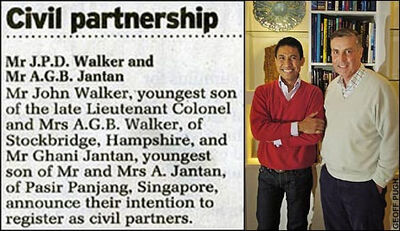 Before same-sex marriage gained legal recognition in as many countries as it has today, civil unions were the interim arrangement instituted in these nations. The first Singaporean on record to enter into a civil union overseas was Malay-Muslim computer executive Ghani Jantan, son of Mr and Mrs A Jantan of Pasir Panjang, Singapore, who registered a partnership with former cavalry officer John Walker, a British citizen from Stockbridge, Hampshire[4],[5]. They created history in more ways than one - not only were they part of the first wave to take advantage of the UK's new civil partnership law but they were also the first couple to record the fact in the print versions of The Telegraph and The Times in early December 2005, accompanied by a colour photograph of the happy couple. They converted their civil union into a full fledged marriage when legislation to allow same-sex marriage in England and Wales was passed by the Parliament of the United Kingdom in July 2013 and came into force on 13 March 2014.

Since then, many gay Singaporean couples have followed suit and registered their own civil unions in foreign jurisdictions or have even gotten married to their partners in countries like Canada and the USA where gay marriage has been legalised([6]):
Others celebrate their loving relationships in Singapore via videos posted on YouTube.
Gay wedding ceremonies
Edit
Even though gay marriage is not yet legal, holding gay weddings is perfectly legitimate in Singapore, unlike the case with Vietnam where it was illegal until as recent as 2014. However, the "marriages" that the wedding ceremonies or dinners celebrate cannot be registered with the Registry of Marriages and are therefore not legally recognised.
There is much less discrimination against lesbian relationships, especially after lesbian sex was decriminalised during the Penal Code review in 2007 when the former Section 377, which criminalised "carnal intercourse against the order of nature" (theoretically including penetrative lesbian sex) was repealed.
Therefore, if there is a push by LGBT activists to legalise gay marriage in Singapore, it may be spearheaded by lesbian couples serving as role models as there is much less mainstream resistance against their relationships. However, the overseas Singaporean same-sex marriages that have been reported in the mainstream and alternative media so far have mainly featured male couples.
Ivan Heng marries Tony Trickett in London
Edit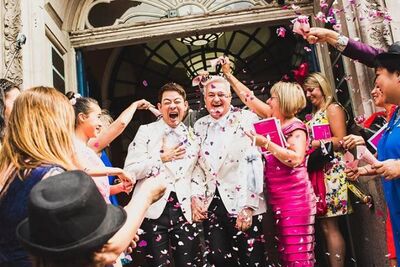 On Friday, 1 August 2014, Cultural Medallion recipient, theatre doyen Ivan Heng, the founding artistic director of home-grown theatre company Wild Rice, married his long-time partner Tony Trickett, Wild Rice's executive director, in a ceremony in London. Heng and Trickett, then 50 and 57 years of age respectively, tied the knot at the Chelsea Old Town Hall on the 18th anniversary of the day they met and fell in love. According to Heng, it was a perfect British summer's day, memorable in every way. The couple were immensely moved and overwhelmed by the messages of love and congratulations from everyone. After the wedding, they headed to Tuscany in Italy for a few days' holiday.
Heng announced the good tidings in a lengthy Facebook post entitled, "I am a Happily Married Man"[7]:
"On being awarded the Cultural Medallion, Singapore's highest national award for culture and the arts, a journalist asked me whether she could use the term "openly gay" to describe me. A little stunned, I asked her what my sexual orientation had to do with the award. She explained that as the two other winners were married, she felt it necessary to inform the readers about my marital "status", or something equivalent.

I paused, not quite knowing what to say. And then asked her if she would use the term "openly straight" to describe them. The irony was not lost on her, and we had a giggle. I told her she could write that I shared my life and work with Tony, my partner of seventeen years.

When I finally accepted the award at the Istana, I ended my speech by thanking Tony publicly, and I might add, to great applause. The article regarding the ceremony made the front page of the Straits Times the following day. But whilst my fellow winners' spouses were mentioned in glowing terms, Tony was conspicuously absent. This lack of any acknowledgement hurt.

I've always liked the idea of marriage. I cry at weddings because there is something beautiful and romantic about finding someone, falling in love, and wanting to give each other the world. Forever. I imagined it'd be bliss to come home to a best friend at the end of a day's work, to have dinner, or take evening strolls with. It would be wonderful to always have someone in my corner, a constant companion with whom I could just be myself, and to grow old with. But when I was growing up, I had little to look up to. There were no positive gay roles models, and neither were there any gay television programmes, books or films with happy endings. So I dared not entertain the hope that marriage could happen for me.

In the summer of 1996, I met Tony at the "Brief Encounter", a gay bar in London's West End. I was meant to be at another party that evening, but my hot date ran out of battery on his mobile phone, and I did not own one. So my intended tryst was scuppered, and I needed a drink. It was "Disco Thursday", and the place was heaving with an after-work crowd. As is always the case with gay bars, everyone was trying and never completely succeeding to be butch and cool. But when Barbra Streisand and Donna Summer's "Enough is Enough" came on, the make-shift dance floor went wild and everyone started a sing-a-long. I found myself mouthing the words with a casual insouciance - one tries to look as if you're enjoying yourself, but not too much.

And then I saw Tony, looking very handsome in his pinstriped suit, not a strand of his salt and pepper hair out of place and the kindest, most beautiful blue eyes. He too was singing. "I always dreamed I'd find the perfect lover, but he turned out to be like any other man…". We caught each other lip-synching across the crowded room, and laughed. And then, we proceeded to sing the entire anthem to each other. "Enough is enough, is enough, is enough…IS ENOUGH!!" We keeled over laughing. Sharing a sense of humour was a good place to start. When we finally recovered and spoke to each other, something clicked. That night, all our cares melted away and the world disappeared. We fell in love.

Six weeks later, on a moonlit street in London, Tony went down on bended knee and asked me to marry him. I remember being at once alarmed and moved. Given the improbability of such a union, and preferring to be romanced by chocolates, flowers and champagne, I declined. He persisted, gallantly getting down on both knees, and I agreed for us to be "boyfriends". Needless to say, our encounter has been more than brief.

Within three months of knowing each other, we moved in together. And one year later, in 1997, we moved to Singapore. It is a place we have grown to love very much, and that we call home.

When marriage equality became real in the United Kingdom this year, Tony and I decided to get married. We envisaged an intimate, private ceremony with our families and our close friends. It would be an occasion to celebrate and affirm our commitment to each other as a couple. We chose the 1stof August 2014 for our nuptials to mark our 18th anniversary together. Homophonically, pun fully intended, 1-8-1-8 is auspicious in Chinese. A little luck is needed on all great adventures.

Yesterday, at the Chelsea Old Town Hall in London, we avowed our love. With our nephew as our ring bearer, our siblings as witnesses, our family and our closest friends, we exchanged rings and made a promise to love and cherish each other to the end of our days. It was well and truly one of the happiest days of our lives.

We never meant for our marriage to be a political statement or an act of activism. Notwithstanding that, I have come to terms with the fact that as a public figure, one's personal joy sometimes becomes political.

Even as the LGBT community in Singapore struggles for equality and acceptance, there have been there have been many incidents that have vilified us in recent days. These have ranged from the religious fundamentalists' declaration of war on the community and a widespread and systematic campaign of hate to keep S377a on the law books, the attempt to undermine the Health Promotion Board's guidelines, and the Wear Red and/or White Movement. In fits of moral panic,the MDA banned Ah Mei's "Rainbow", and the National Library Board shelved children's books to its adult collection.

It is easy to see that all of this stems from the presence of S377a, which is in effect state-sanctioned bigotry. The verdict is still out on the constitutional challenge to this archaic law that discriminates against a vulnerable segment of our society. But as it stands, neither the judiciary nor legislature seems to have the moral courage to repeal it. Between Goh Chok Tong's, "We are born this way and they are born that way but they are like you and me" to Lee Hsien Loong's "Why is the law on the books? Because it's always been there and we should just keep it there." - we really have regressed, even as the world is waking up to the fact that LGBT rights are human rights.

In spite everything, we remain hopeful.

Pink Dot continues to grow in size and meaning, proudly signaling a wish for a more fair and just society. The way we progress, how we regard human rights in our society,is always driven by the young, who are not married to the prejudices of the past. My personal interactions with young people, not least my dear nephews and nieces and indeed all the beautiful children at our wedding, give me hope for the future, and a distinct sense that time and history are on our side. In the bigger scheme, Singapore is showing signs of maturing as a society. Our citizens, both straight and gay, recognise inequality, prejudice and hate-speech when we see it, and are now more ready than ever to call it out. We are finally beginning to have the important conversations that go to the heart of living in a true democracy. Because truly, if we want to talk about our core values and community standards, these surely must include notions such as tolerance, inclusivity and diversity. I trust we will come to understand that this has as much to do with the protection of the rights of a minority, as it is about the will of the majority. The LGBT community is not going to go away or disappear. So the sooner everyone gets over it, the happier everyone will be, and we can get on with more pressing matters. Enough is enough.

And Singapore is changing. We were a little nervous about telling anyone outside our close circle of family and friends about our nuptials. In getting ready for our Big Day, we had to find and buy our wedding rings, tailor our outfits, get advice for our wedding cake, get our invitations and programmes printed. We had to "come out" again and again to complete strangers. But in our experience, these ordinary Singaporeans were nothing but kind and genuinely happy for us, unabashed in their congratulations and best wishes, offering to help us in any way possible.

This experience has affirmed our belief that the most important thing anyone can do as a human being, straight or gay, is to be true to oneself. We are so much happier if we can all be proud of whom we are, how we feel, whom we love. Our marriage is a declaration our love, and we invite the world to share in our joy. We are deeply grateful for our wonderful family and our amazing friends, whose love and support has been a great encouragement and inspiration to us through the years.

In closing, I would like to report that your fellow Singaporean, Ivan Heng is now "openly married".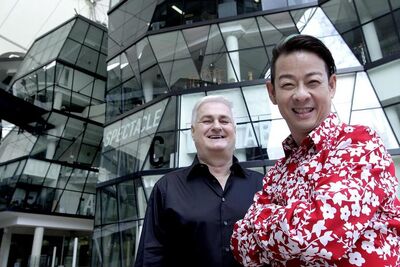 The news of Heng and Trickett's marriage was reported in The Straits Times on 3 August 2014[8],[9]. Readers expressed their heartiest congratulations in the comments section below the article.

Media censorship
Edit
A 1,700 word Valentine's Day feature article entitled "Singapore's art power couples on the secrets to their success" published by Today newspaper on Friday, 12 February 2016, mentioned 4 heterosexual couples who worked alongside each other in performance and visual arts in the opening paragraphs and featured interviews with 3 other straight couples in the arts scene in Singapore.
However, it conspicuously omitted the gay, married, celebrity couple of Ivan Heng and Tony Trickett. In a Facebook post, Heng wrote on Saturday, 13 February 2016, that they had agreed to be part of the feature and was interviewed by journalist Mayo Martin.
"We've been informed that the section featuring me and Tony was pulled at the last minute by the higher editors because "it didn't fit with the rest of the profiles throughout the couples series of stories." We note that we were not even mentioned in the list of couples running theatre companies in the opening paragraphs." Heng asked, "What could this mean? Would the higher editors care to identify themselves and explain their decision?"
Lesbian couple's wedding celebrations supported by family
Edit
On 9 April 2018, LGBT website Dear Straight People featured the story of Gillyn and Jolyn who managed to get married openly in Singapore with the full support of their family and extended relatives[10]. Their wedding celebrations ran the full gamut of the traditional morning gatecrash and tea ceremonies to the sumptuous wedding banquet[11].

Together since 2012, the couple tied the knot in 2016 in the United States. They then returned to Singapore where they managed to find a hotel accommodating enough to hold a traditional Chinese wedding banquet.
While their wedding may seem like the very definition of a happily ever after, their love story didn't quite start out so Disney-like. In fact, Gillyn and Jolyn first met in a toilet in 2012. Highly intoxicated during a night out at a Thai club, the then 25-year old Gillyn went into the restroom to take a breather. It was there that she met Jolyn for the first time, who was with her then girlfriend. Fuelled by liquid courage, Gillyn admonished Jolyn for being too loud. Gillyn recounted that Jolyn was stunned when she told her off and only remembered her smiling sheepishly back at her. She could not remember what she said since she was half drunk.
Coincidentally, the pair had a mutual friend and it was through that friend that athey were able to get to know one another better. Before long, sparks started to fly between the two. After a couple of failed attempts, Jolyn finally succeeded in getting Gillyn to be her girlfriend while on a trip to Johor Bahru.
When Gillyn replied "yes", there was suddenly a loud "BANG"! Someone had hit her car from the back. However, she was ecstatic so she just smiled and told the driver "It's OK, don't worry about it!" To everyone who knew Jolyn, her car was her everything but she was just over the moon about Gillyn saying yes that nothing could spoil her mood at that point in time. After 4 years of courtship, the couple decided to get hitched.
As both of them wanted to propose to the other, the couple ended up having two separate proposals. Gillyn emailed a newspaper and had a full page of space declaring her love for Jolyn, accompanied by a cute cartoon. It was the craziest thing she have ever done. The newspaper declaration stressed Jolyn out, though. Not to be outdone by Gillyn's very public proposal, Jolyn organised an elaborate beach proposal for her other half.
She went to Sentosa to book the beach, engaged a band, sang her proposal song and popped the question. She had stage fright so her voice was super soft and trembling. During the preparation, her brother and bridesmaids carried all the items, helped her with all the decorations as they were afraid she would be too tired to perform and sing well for her future wife. It was her blessing to have them. The couple then flew to Santorini in Greece to have their pre-wedding photoshoot before getting hitched in the States the following year.
Celebrating their wedding in Singapore however, was not quite as straightforward. Most of the hotels the couple approached turned them down. When one hotel finally accepted their request, they demanded that the couple not wear a gown during the ceremony. Needless to say, they rejected that offer. How could a bride not be allowed to wear a gown on her big day?
It took some time but eventually, they found a hotel that was happy to host them and did not make any strange requests. Like any other couple getting married, Gillyn and Jolyn had the morning gatecrash and tea ceremonies on top of the wedding banquet. Organising a same-sex wedding ceremony in Singapore may have involved more hassle than usual but the pay-off was well worth it.
Gillyn's dad kept tearing during the morning tea ceremony session. It was a really touching moment when he said, "If Mummy was here to witness it, she would be very happy."
The wedding itself was a massive success, with all 10 tables filled. It was a blast and they were so grateful to all the guests who made their way down to attend their special day. They had many other friends that wanted to attend but had to disappoint them because they wanted to stick to their plan of 10 tables so that they could attend to all our close friends and family.
The union of Gillyn and Jolyn may not have been recognised in the eyes of the State but the massive success of their wedding was a clear indication that their marriage was very much recognised by their loved ones. It was the kind of happily ever after many would much rather have. Many regard it sad that Singaporean queer couples almost always have to resort to getting married overseas in secret as celebrating one of the most special days of one's life should be done in the company of loved ones. It should not have to feel like an elopement.
First positive media report of Singaporean gay marriage
Edit
The first Singaporean gay marriage which was reported positively and given detailed coverage in the mainstream media was that of actor-singer Caleb Goh and his partner who declined to be named for the Yahoo! News article[12]. They got hitched on 16 December 2018 in the historic Presidio Park in San Diego, California.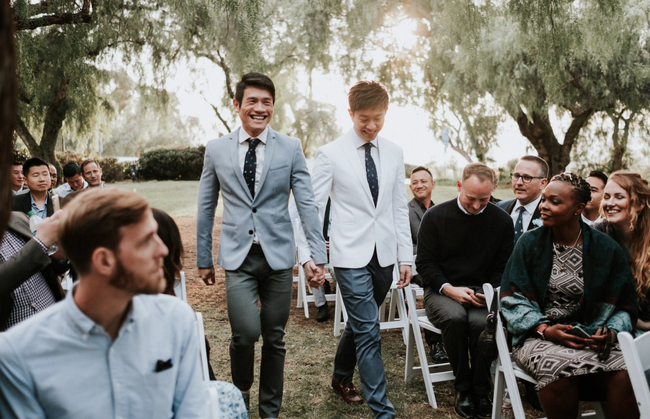 Goh, who is based in the United States, posted photos of the wedding ceremony and reception on Twitter for the first time on Wednesday, 7 March 2018.
The then 40-year old was a familiar face in TV, film and stage productions in Singapore before he left for the US in 2002 to further his education and career. He starred in local films like Forever Fever and The Teenage Textbook Movie, and musicals such as Mr Beng. He also appeared in local television shows such as Masters of the Sea and Growing Up.
Goh said that he met his husband in Singapore while performing in a play called Asian Boys for W!ld Rice. His husband-to-be was in the audience and after the show, he walked out of the dressing room and introduced himself to him. Before they knew it, five years had gone by. Goh's husband moved to California to pursue his studies and is currently a research analyst. Goh had spent the last 16 years in California so his husband pretty much moved to start their lives together in the US.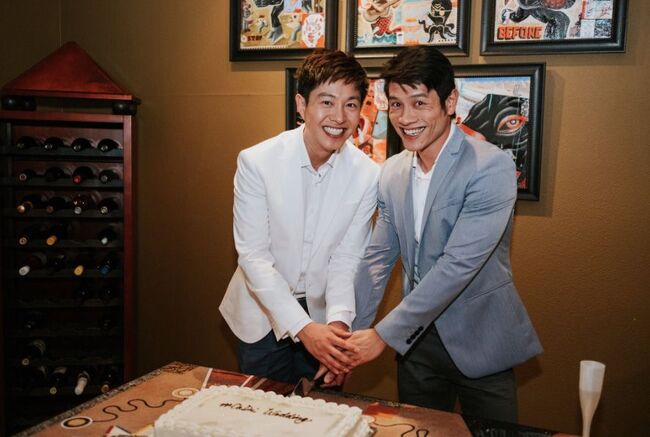 Although Goh had worked and lived primarily in the United States for 11 years, he returned to Singapore in the few years prior to 2018 to act in productions including Jack and the Bean Sprout and Rising Son. He was also a lecturer in musical theatre at LASALLE College of the Arts from 2013 to 2015. Goh was the first person from Singapore to receive a doctorate in musical theatre and is currently a drama programme director at St Margaret's Episcopal School in Orange County in California.
Li Huanwu marries Heng Yirui in South Africa
Edit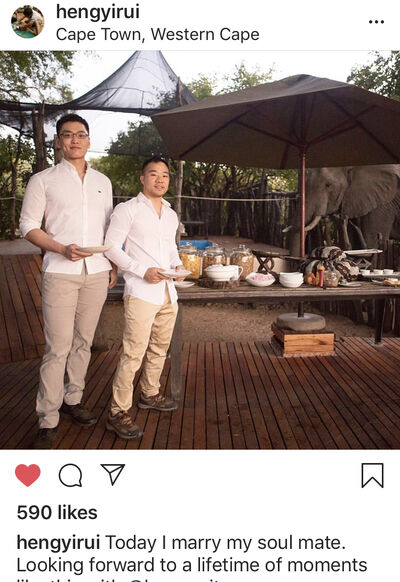 Barely one week after Taiwan made history on 17 May 2019 when it became the first jurisdiction in Asia to legalise gay marriage[13], Li Huanwu, the grandson of the late Singapore prime minister Lee Kuan Yew, married his long-time male partner in an intimate ceremony on Friday, 24 May 2019 in Cape Town, South Africa where same-sex marriage was legalised in 2006[14],[15]. Before their wedding ceremony, the pair visited the Mana Pools National Park. The event was a small and private affair with only close friends and family in attendance. The Singapore Airlines cabin crew also presented a cake and congratulatory note to the couple on their flight to South Africa.
"Today I marry my soul mate. Looking forward to a lifetime of moments like this with (Huanwu)," wrote Heng Yirui, Li's partner, on his personal Instagram account in a post from Cape Town on the evening of Friday, 24 May 2019.
Heng is a veterinarian while Li is the vice-president of a tech company and the second son of Lee Hsien Yang, who is the younger brother of Prime Minister Lee Hsien Loong. Lee Hsien Yang said, "I believe my father would have been thrilled to know this." (see main article: Lee Kuan Yew's views on homosexuality).
After tying the knot, the couple also sent a statement and photos of their wedding to Pink Dot Singapore, which posted them on its Instagram page.
"Today would have been unimaginable to us growing up. We are overjoyed to share this occasion in the glowing company of friends and family," they said in a statement to Pink Dot Singapore.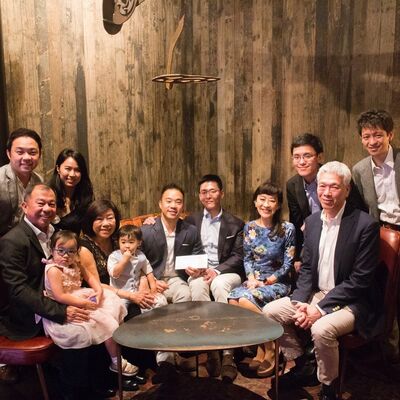 Li had gone public about his partner more than a year before the wedding. In July 2018, he and Heng appeared in an LGBT-themed photography exhibition called Out In Singapore which aimed to foster acceptance and support for LGBTQ persons who wished to come out to family, friends and peers in the community. The couple could be seen with their arms around each other in one of the portraits. Both had also attended Pink Dot at Hong Lim Park since 2017.
Alternative media sites in Singapore, including Mothership and The Independent, were quick to pick up on the announcement while mainstream media outlets steered clear of reporting it. Mothership's Facebook post attracted 1,700 likes and 400 comments, mostly positive and congratulating the pair. One user, Donna Lim, commented: "Congrats! Love has no boundaries."
In mainland China, multiple posts of Li's wedding surfaced on social media app WeChat, which have garnered hundreds of likes and comments as of Saturday afternoon, 25 May 2019. A few reacted with disdain but many of the Chinese commentators also congratulated the couple, with some hoping that Li would front the fight for gay rights in Singapore.


Tom Tan marries Oui Sumet Srimuang
Edit
On 7 November 2019, Dear Straight People posted a video on its Facebook page of the marriage of Singaporean Tom Tan[16] to his Thai fiance Oui Sumet Srimuang[17] in Bangkok[18]. The epic ceremony featured a giant ice phallus, stripping policemen and holographic projections in what was billed the 'Gay wedding of the year'. The host, Sean Foo[19], hoped that his vlog would inspire viewers to marry their partner with the full support of their families and that it would not seem like a distant fantasy anymore
Alexa Serenti and Brenna Wee
Edit
The Pink Dot 2020 live stream featured the story of married Singaporean lesbian couple Alex Serrenti and Brenna Wee[20]:
Marriage of Joyce Chan and Lim Qiuling
Edit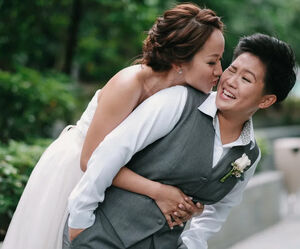 On 10 September 2020, Dear Straight People published the story of Joyce Chan[21] and Lim Qiuling, a married Singaporean lesbian couple who had been together for 11 years[22]. The pair first caught the attention of the LGBT community when Chan penned a heartfelt post on Facebook during Pride Month 2020. Her post detailing her relationship with Lim quickly went viral, garnering thousands of likes and shares in a matter of weeks. Married for 2 years since 2018, it was not hard to see why their relationship inspired so many[23].
Foreign gay married couples in Singapore
Edit
Singapore law does not recognise civil partnerships and same-sex marriages from overseas jurisdictions. If foreign gay married couples wish to work in Singapore, the available options are:
If children are involved, the situation is more complicated and applicants should consult lawyers versed in these matters. A list of lawyers is available here:[24].
Information regarding the policies and various passes that apply depending on the eligibility of the individual is available at the ICA's website:[25] and also the Ministry of Manpower's (MOM) website:[26].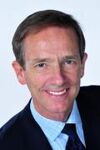 There are exceptional cases where if the Government requires the unique expertise, unavailable locally, of a married gay foreigner, it may actively headhunt the individual from overseas and offer the spouse a special visa to live with him/her in Singapore. A prime example is that of American seismologist Kerry Sieh, Founding Director of the Earth Observatory of Singapore. It reflects the Government's elitist policies and double standards with regard to LGBT equality.

Discrimination faced by same-sex couples in Singapore
Edit
Public housing
Edit
See also: Public housing for LGBT Singaporeans
In Singapore, access to public housing is the biggest benefit granted to married couples and is officially recognised as a key pillar of support for relationships. Public housing is the most affordable type of housing for the middle and working class due to the high price of housing in Singapore. Purchasing a Housing Development Board (HDB) flat is a major step towards married life for almost all couples intending to formalize their relationship and is entrenched in Singaporean society. Upwards of 80% of Singaporean families live in public housing apartments sold by the Housing Development Board (HDB).
Same-sex couples in Singapore, whether citizens or foreigners, cannot own their own homes through the public housing scheme, and many rent as they are unable to afford private housing. Same-sex partners - both must be above 35 and Singapore Citizens - can purchase a flat under the Joint Singles Scheme.
Private housing, a property class typically 1.5 to several times more expensive than public housing, but open to the public and foreigners, may be purchased by same-sex couples both Singaporean and foreign.
Immigration and spousal rights
Edit
Legal and immigration rights are not awarded to binational couples, where one partner is a Singaporean or Singapore permanent resident. Dependent visas, which are usually issued for heterosexual spouses, are not available for same-sex couples. Tax rights, wills, and spousal insurance benefits do not include same-sex couples. There is no recognition of same-sex couples in most areas of concern such as hospital visitation and Central Provident Fund benefits.
Public opinion
Edit
See also: Singapore LGBT surveys
According to a 2013 poll, some 75% of Singaporeans opposed same-sex marriage.
In 2019, a poll conducted by YouGov with 1,033 respondents showed that about one-third (34%) of Singaporeans backed same-sex partnerships, while 43% opposed their legalisation, and the remaining 23% were uncertain. Support was more notable among younger respondents: 50% of people aged 18 to 34 supported civil partnerships and 20% were opposed. In contrast, only 22% of those aged 55 and over supported. 41% of university degree holders agreed with the legalisation of same-sex partnerships, whereas only 26% of respondents without a university degree were in favour. Of those who considered themselves "very much" religious, only 23% supported civil partnerships. 51% of people who considered themselves "not at all" religious expressed support. Apart from irreligious people, majority support for same-sex partnerships was also found in respondents who identified as LGBT (71% against 22%) and those who personally knew a person in a same-sex relationship (52% against 33%).
A survey conducted by the Institute of Policy Studies between August 2018 and January 2019 revealed that Singaporean society was still largely conservative but becoming more liberal on LGBT rights. The survey showed that more than 20% of people said that sexual relations between adults of the same sex were not wrong at all or not wrong most of the time, a rise of about 10% from 2013. Around 27% felt the same way about same-sex marriage (up from 15% in 2013) and 30% did so about same-sex couples adopting a child (up from 24% in 2013).
A mid-2019 poll conducted by the Institute of Policy Studies found that opposition to same-sex marriage in Singapore had fallen to 60%, down from 74% in 2013. The poll also found that nearly six in ten Singaporeans aged between 18 and 25 believed same-sex marriage is not wrong.
In June 2019, an online survey conducted by Blackbox Research revealed that 56% of Singaporeans are opposed to other countries following Taiwan's example in legalising same-sex marriage, while 44% said "yes". When asked on how they feel that more than 300 same-sex couples were married in Taiwan the first week after the new law was passed. About 49% of those surveyed felt positive about the statement, with 14% feeling "strongly positive", while 35% feeling "somewhat positive". Conversely, 51% responded negatively to that, 20% felt "strongly negative" while 31% were "somewhat negative".
References
Edit
Acknowledgements
Edit
This article was written by Roy Tan.
Community content is available under
CC-BY-SA
unless otherwise noted.