Introduction
Edit
Prior to the 1990s, it was almost impossible to publicly list an individual who was willing to admit that he or she was homosexual. It was only with the AIDS crisis, the liberalisation of society spurred by the growth of the Internet, the introduction of cable television into Singapore, the worldwide trend toward human rights and freedom of individual expression, plus the economic advantages of social diversity recognised by the Government, that gay Singaporeans have been courageous enough to stand up and be counted for what they truly are. This is all the more remarkable in the face of what is oftentimes insurmountable prejudice and homophobia.
Historical
Edit

The first Singaporean living with HIV/AIDS to publicly declare his HIV-positive status, thus giving a face to a hitherto anonymous affliction which mainstream society considered remote from possible encounter. He came out on 12 Dec 1998 during the First National AIDS Conference in Singapore. He identified his orientation as bisexual.
His plight was dramatised in a play called "Completely With/Out Character" produced by The Necessary Stage, directed by Alvin Tan and written by Haresh Sharma, staged from 10-17 May 1999. He passed away on 21 Aug 1999, shortly after the play's run ended. (For more information, see the main article Paddy Chew.)
Arthur Yap - one of Singapore's finest poets
Yap was arguably Singapore's finest poet, enormously influential amongst the later generations of Singaporean writers. He died of naso-pharyngeal carcinoma on 19 June 2006. (For more information, see the main article Arthur Yap.)
Contemporary
Edit
The following categorisations are arbitrary as most of the LGB individuals listed are active in more than one field. Transgender personalities and cross-dressing artistes are listed in the article Transgender people in Singapore.
Activists
Edit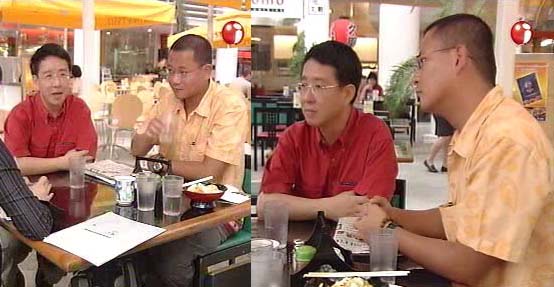 Eileena Lee (see Fridae interview,Yahoo! profile) - Singapore's most well-known lesbian activist. Lee was the founder of RedQueen!, Singapore's first and main lesbian mailing list. She was instrumental in the setting up of Looking Glass, a counselling service for lesbians in emotional distress, and Pelangi Pride Centre, Singapore's first LGBT community centre. She relinquished her appointment as president of the pro-tem committee of People Like Us 3 in 2006 but continues to build a bridge between the lesbian and gay communities. She currently devotes most of her energy to moderating RedQueen! and organising activities at Pelangi Pride Centre.
Charles Tan - PLU3's effectively-bilingual, diplomatic, affable and unflappable spokesman. Tan was the second male gay activist to be interviewed on Singapore television and is an ardent advocate of democracy.
Jean Chong (see Fridae Interview, blog) - one of the founders of Sayoni, a discussion forum for queer women. Chong was also active for 7 years in organising women's activities for Safehaven and the Free Community Church. She is currently the only woman serving in the core committee of People Like Us. She played an instrumental role in organising all the women's functions for IndigNation 2006 and was the chief liaison personnel for many of the other events. She forms a strong link between the lesbian and gay communities.
Entrepreneurs
Edit
Edward Chew - Singapore's first "pink" entrepreneur. Publisher of the world's first glossy Asian gayrotic periodical, OG, which was produced in Singapore, printed in Hong Kong, and widely distributed around the world through the 1980s and 1990s. Many Singaporean gay photographers and graphic artists worked underground to produce OG semi-annually over two decades.
Vincent Thnay - founder of Vincent's lounge / Vincenz, Singapore's first dedicated East-meets-West gay bar where international patrons could socialise with local gays. While a 1980s crackdown saw the demise of neighboring clubs Niche and Legend, Vincent's managed to remain open for two decades by maintaining a low-key atmosphere.
Max Lim - Singapore's first gay impresario to be known by a wide swathe of the local LGBT community. He was the first to organise outdoor gay parties in the early 1990s at such venues as the East Coast Lagoon and Big Splash, and non-Sunday gay disco nights at various mainstream clubs like Dancers - the Club in Clarke Quay and at Far East Shopping Centre. He opened Spartacus, Singapore's first gay sauna with a daily gay disco on the ground floor, and later, Stroke and Raw saunas along Ann Siang Road. He was the first to experiment with such novel concepts as a 24-hour sauna that never closes, a totally gay restaurant, a transwoman pride march down Ann Siang Road and Club Street, a drag artiste cabaret-disco, performing in drag in his own revues, swimming trunk fashion shows, erotic film screenings, overnight lodgings for gay men, and offering patrons the option to buys shares in gay enterprises.
Dr. Stuart Koe (see zoominfo profile) - Singaporean academic with a doctorate in pharmacy from the University of Minnesota, USA. Koe returned to Singapore in 1997, after which he worked in the life-sciences division of the Economic Development Board. During this period, he also devoted his energy towards mainstream charity work. Koe embarked on a radical career change when, in 2001, he founded fridae.com which has since grown to become Asia's largest English-language LGBT web portal.
Arts practitioners
Edit
Tan Peng - Singapore's first openly gay artist and also one of the first Singaporeans to come out to the general public. His homoerotic charcoal sketches were featured in the Straits Times in the 1980s, the first for a local artist.
From February 20-28, 1993, Tan Peng and American artist, John C. Goss, held Singapore's first openly gay-themed art exhibition entitled Flowing Forest, Burning Hearts, at The Substation public gallery. This two-man show was Tan's third exhibition of homoerotic work, but the first in which he came out publically in the press as a gay man. His large pastel drawings tackled issues of importance to local gays: oppression, pressure to marry, invisibility, repressive religions, safer sex and HIV caregiving, and police entrapment. Some of his works from this watershed exhibition are archived here.
Cyril Wong (see website) - The only openly-gay poet to win the National Arts Council's Young Artist Award for Literature, Wong is at the forefront in canvassing greater public support for the arts in general, and poetry in particular.
Academics
Edit
Dr. Russell Heng (see Fridae interview) - Singaporean academic, playwright, psychologist and former Straits Times journalist. The most senior of all the gay activists, Heng was the first local academic to write research papers on homosexuality in Singapore and also one of the founding members of People Like Us.
Dr. Tan Chong Kee (see Fridae interview, website) - the impressively bilingual and multiply academically-qualified founder of Sintercom (Singapore Internet Community), Tan has been a guest on several television panel discussions and documentaries, and the subject of newspaper articles on socio-political activists. He delivered the first lecture of IndigNation entitled "Same Sex Love in Classical Chinese Literature", in Mandarin. He has recently been contributing regular articles to Fridae.com (see bibliography).
Professionals
Edit
Sylvia Tan (see bibliography) - the first Singaporean journalist to write exclusively about local, as well as international, LGBT culture. Tan holds a degree in communications science and is presently working as the principal reporter and news editor of Fridae.com, Asia's largest English-language LGBT web portal.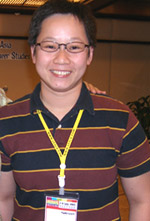 Roy Tan - healthcare professional passionately interested in documenting local LGBT history. Tan started all the Singapore LGBT-related articles in Wikipedia in 2005 and ported every article removed by deletionists to SgWiki[2]. He has also recorded and amassed the most comprehensive collection of local LGBT videos on YouTube[3]. Tan intended to organise Singapore's first gay pride parade at Hong Lim Park[4][5] in 2008 after the government legalised protests there. This later morphed into Pink Dot SG. Together with fellow citizen Tien Kim Chuan, Tan marched in Singapore's first and only gay Chingay contingent when the public were allowed to form their own marching group in 2010[6].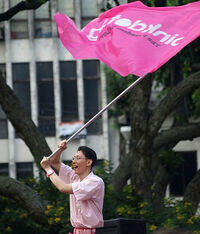 Other prominent personalities
Edit
References
Edit
Acknowledgements
Edit
This article was written by Roy Tan.
Community content is available under
CC-BY-SA
unless otherwise noted.