Founding of Fridae.com
[
]
Many LGBT Singaporeans ushered in the new millenium at crowded parties in gay discos. Realising the unmet need for well organised outdoor events in venues which could accommodate enormous numbers of gay party goers on special occasions, and an Asian version of a website like gay.com to more intimately serve an exclusively Asian gay community, U.S.-returned pharmacy doctorate-holder Stuart Koe, together with lawyer Robert Yeoh, worked to set up fridae.com at the turn of the millennium. An advertisement was placed on SiGNeL (the Singapore Gay News List) on 11 July 2000 to solicit the participation of gay men and lesbians in a focus group to discuss what they desired in a cutting-edge LGBT lifestyle portal in Asia[1]. The project was undertaken in collaboration with Media Arts, a leading web solutions developer based in Singapore which had its office at 10 Ann Siang Hill. In the years to come, Fridae (inspired by man Friday from Daniel Defoe's novel Robinson Crusoe) would go a long way towards achieving its goal of 'empowering gay Asia' by becoming 'Asia's leading media & events group; the business community's primary conduit to the Asian gay community; and a respected voice in our advocacy for equality and freedom of choice.'
First mention of word "gay" on TV
[
]
On Tuesday, 7 March 2000, the word "gay" was probably uttered for the first time on Singapore television. It was noted by Alex Au during a Channel News Asia bulletin in which newsreader Jill Neubronner mentioned an Australian who was arrested for threatening "to plant bombs during the Olympics and the Sydney Gay and Lesbian Mardi Gras."[2]
Relaxation of broadcasting of LGBT content on TV
[
]
The year 2000 also saw the relaxation of the broadcast of LGBT-themed films and documentaries on prime time television[3]. Examples were:
Arts Central's screening of 100 Years of Chinese Cinema which included

Stanley Kwan

's documentary on sex and gender featuring scenes from

The Wedding Banquet

,

Farewell to My Concubine

, rare 1960s footage of gay and lesbian-themed movies and Kwan's mother's acknowledgement of his son's sexuality.
An episode of the excellent but slightly pretentious Alter Asians' adaptation
of Catherine Lim's "Or Else The Lightning God" which featured a subtle hint of a homosexual male.
Several episodes of Arts Central's Bob and Margaret with sexually explicit
themes not entirely related to homosexuality but close to it (eg. the award winning Bob's birthday episode).
TCS8

's imported Hong Kong serial "The Disappearance" screened in early March 2000 contained a whole episode about a gay man's exploits with a girl and her boyfriend, including an eye-popping bedroom scene between the two guys.
TCS8's SNAG (sensitive new age guy) with hints of

Wong Hei

's uncertainty over a friend who was physically attracted to him.
The Practice shown on

TCS5

in mid-March 2000 with a subplot about a straight man with cross-dressing tendencies and lesbianism touched upon in a very funny manner.
Asiaweek interviews Alex Au
[
]
The 17 March 2000 issue of Asiaweek profiled gay activist Alex Au and theatre practitioners Haresh Sharma and Alvin Tan:[4],[5].
Huge increase of HIV incidence in gays
[
]
In March 2000, Action for AIDS announced that Ministry of Health statistics showed a significant increase in infections among homosexual males from 12 each year in 1996, 1997 and 1998 to 29 in 1999. The number of infections diagnosed in bisexual men remained relatively stable - 15 in 1997, 19 in 1998 and 14 in 1999[6].
First mass private screening of gay movie
[
]
On Wednesday, 29 March 2000, Dr. Tan Chong Kee and Alex Au organised a private screening of the English version of the gay Taiwanese box office hit "Boys for Beauty" at the Alliance Francaise, Sarkies Road, at 8pm[7]. The original Chinese language version of the movie had recently been screened at the Singapore Film Festival. The film's director, Mickey Chen, was present for the Q&A session[8]. It was followed by a press conference[9]. In late April 2000, Asiaweek published an article about the film which contained a paragraph in which Alex Au gave his views on Singapore censors' restriction of the movie to adult audiences only[10].
Venom disco webcasts Sunday gay nights
[
]
On Saturday, 8 April 2000, The Straits Times' Life! section reported that Venom disco was planning to webcast its Sunday night parties (as well as on other nights) online via 6 video cameras. In response to this move SgBoy.com set up an online poll to seek the gay community's opinion and intended to speak to Venom's boss about the matter[11]. Several gay men expressed their displeasure at the move on online forums[12],[13],[14],[15].
Straits Times reporter calls for repeal of Section 377A
[
]
On 16 April 2000, reporter Geoffrey Pereira published, in The Sunday Times, the first call for the repeal of the original Section 377 of the Penal Code which criminalised sex "against the order of nature"[16].
First mention of English word "gay" on a Chinese TV channel
[
]
On Wednesday, 19 April 2000, the English word "gay" was uttered for the first time in the premiere episode of a local Mandarin television drama series entitled "The Voices Within" shown on TCS8 at 10:30pm[17],[18]. The episode was translated into English by TCS8 as "In Love with Gay". This was TCS' description of the episode on its website: "After two years of courtship, female graduate Yuting is shocked to learn that her boyrfiend is a gay. She also loses confidence in herself. She blames herself for her boyfriend's condition after reasoning that he must have turned to his own sex because he doesn't find her attractive enough. She consults a psychiatrist hoping to find a cure for her boyfriend's condition. But can homosexuality be cured?"[19] Viewers described one scene in which Yuting asked her boyfriend, Randy (played by actor Sean), why he still went out with her after he told her he was gay. It was groundbreaking that Randy was portrayed as a non-effeminate homosexual and just a regular human being. In another scene, a radio DJ, played by actress Jacelyn Tay, told her listeners that if a guy did not make a move on a girl after they dated for a while, she was either not his type or he was gay. She also reminded them that not all gay men were sissies or perverts. Viewers thought that the drama dealt with the gay issue with great sensitivity[20]. The episode spawned a heated debate in the Chinese newspapers and resulted in its being banned by the censors[21].
First survey of Singaporeans' attitudes towards homosexuality
[
]
In April 2000, Dinesh Naidu, on behalf of People Like Us, led a team of straight and gay volunteers in conducting the first survey of attitudes of the Singapore public towards homosexuality[22]. Malay and Chinese translators were recruited. The results, which showed that a majority of Singaporeans could accept a gay member of the family, agree that oral sex between adults in private should not be prohibited, and feel that employers should not discriminate against homosexuals, were published on People Like Us' website (www.plu-singapore.com) and reported on in detail by Agence France Presse[23], the South China Morning Post[24] and PlanetOut[25].
Straits Times reports on cruising activity at Hong Lim Park
[
]
On 28 April 2000, Straits Times reporter Cheong Suk-Wai published an article about the history of Hong Lim Park which touched on its gay cruising aspects[26],[27]: "Three years back, gay couples were known to play hyde - sorry, hide - and seek in the then decidedly secluded park. But, says Staff Sergeant Tan Kok Wah, 40, who has been stationed at the Kreta Ayer Neighbourhood Police Post within Hong Lim Park for the past five years: "With the help of the Parks and Recreation Board, we lobbed the branches off the park's canopy-like trees, installed lots of street lamps and put in concrete footpaths to deter them." As his colleague, Corporal B Palani puts it "We've made the park so bright and open, they simply can't do their 'business' around here anymore." Adds Corporal Palani: "We do get one or two lurking about occasionally, but they're generally gone by 11 pm, to catch the last bus home."
Announcement and banning of first public gay forum
[
]
On 5 May 2000, Alex Au issued a press release to all newspapers, most radio stations, many magazines and the foreign press informing them that a public forum, "Gays and Lesbians Within Singapore 21" was being organised for Sunday, 28 May 2000 at The Substation, Armenian Street, from 2.30 to 5.00 p.m. Admission would be free[28] as the use of The Substation's premises was offered free-of-charge by its director, T. Sasithiran[29]. Speakers would include Dana Lam, artist-writer-mother-wife, Kenneth Lau and Salmon Lee, executives in the financial industry, and Cho Pei Lin, a law undergraduate. An application for a Public Entertainment Licence had been submitted and approval was pending. The aspirations of the government-initiated Singapore 21 concept, to make Singapore our best home, embodied 5 key ideas: 1. Every Singaporean matters; 2. Strong families; 3. Opportunities for all; 4. Feeling passionately about Singapore; 5. Active citizens: making a difference to society. The conference hoped to examine where gay and lesbian Singaporeans stand in relation to these aspirations. In response to the announcement, the Asia One news website set up an online poll asking, "Will you support a public forum on gays and lesbians in Singapore?"[30] Reports on the intended forum were carried on Gay.com[31], The South China Morning Post[32], The Straits Times[33]. The organiser, Alex Au, was interviewed by the BBC on 7 May 2000 for their radio programme "World Today"[34] (see transcript:[35]).
On 23 May 2000, the Public Entertainment Licencing Unit (PELU) of the Singapore Police Force issued a letter to the organiser and a press statement rejecting the application to hold the gay forum[36] saying: "The Police cannot allow the holding of this forum which will advance and legitimise the cause of homosexuals in Singapore. The mainstream moral values of Singaporeans are conservative, and the Penal Code has provisions against certain homosexual practices. It will therefore be contrary to the public interest to grant a public entertainment licence." News of the rejection was reported locally[37],[38] and internationally[39],[40],[41],[42]. In relation to this, Straits Times journalist Irene Ng had been working on an article entitled "Do gays have a place in Singapore?" for months but for some reason, it was not crystallising properly. However, after the application to hold the gay forum was announced, it suddenly became a newsworthy topic. Ng also found herself in contact with Alex Au, Russell Heng and Dana Lam who offered their inputs which enabled Ng's article to take form at last[43]. It was believed by Au that her editors became convinced that the article was worth publishing, as compared to about 2-3 months back, when it was thought that Ng was working on the article out of her own initiative but her senior editors were not supportive. The article appeared as a very prominent 2-page write-up in the 27 May 2000 edition of The Straits Times (page 84 and 85)[44]: http://straitstimes.asia1.com.sg/singapore/sin18_0527.html http://straitstimes.asia1.com.sg/singapore/sin19_0527.html Given the wide readership of The Straits Times, the balance of Ng's article, the prominence of the header, the forum got more public attention than a legitimate forum audience of 120 persons could have ever achieved by itself. The article received positive feedback from gay readers:[45],[46],[47]. The article gave rise to 2 follow-up stories with opposing views published on 3 June 2000 in The Straits Times - "Give gays due credit"[48] and "Singapore is not ready to accept homosexuality"[49]. These, in turn, generated several responses from readers:[50].
When asked by a student during the annual Pre-University Seminar, held on Tuesday, 30 May 2000, which was themed "Realising the Renaissance Spirit in Singapore" whether the government should relax its controls and allow the gay forum, Minister of State, Lim Swee Say, replied, "I do not believe that a single group of people in Singapore has the right to publicise its lifestyle and impose it on others.I am an avid golfer, but I do not hold a forum on golfing to say how much I love golf and convince others it is good."[51] Siew Kum Hong wrote a letter to the Straits Times forum on Friday, 2 June 2000 asking how the forum could possibly have imposed on others[52]. Siew's letter provoked responses from Lim Swee Say himself and Phillip Mah, Assistant Director (Media Relations) of the Singapore Police Force[53]. Siew subsequently rebutted their points[54] and was in turn rebutted by Mah[55]. Other readers also weighed in on the discussion[56],[57].
Worldwide reports on the banning of the gay forum prompted delegates at a 5-day United Nations Forum on Women in New York to ask Senior Parliamentary Secretary for the Ministry of Community Development and Sports (MCDS), Yu-Foo Yee Shoon, if homosexuality would not be an offence in Singapore. It was reported in the 11 June 2000 edition of The Sunday Times that she replied, "I don't like to discuss men's rights, child's rights, women's rights - ultimately the individual counts and our policy is not to discriminate anyone or any single group. Everyone has a right to school, to get a job, to housing and they have an equal chance. If people fall into different categories we help everyone.[58]
Channel News Asia broadcasts documentary on gay Filipino families
[
]
On Monday, 8 May 2000, Channel News Asia screened a documentary about gay people raising families in the Philippines[59].
Straight NUS students set up website to discuss gay Singapore culture
[
]
In May 2000, 3 National University of Singapore undergraduates set up a website on Geocities (http://www.geocities.com/ahlian_77/frames.htm) called "Gay Culture in Singapore" in which straight Singaporeans contributed their perceptions of local gay men[60]. These were some of the comments: "They spend like there's no tomorrow... " writes a (straight) waiter at a gay disco in Singapore. "I saw gays coming in wearing skin-tight super-short leather shorts, shocking pink dresses with a dog collar and chain, T-shirts with holes cut out in the centre revealing their chests, and other forms of amazing stuff too vivid to describe." "The social life of a gay, though constricted by powerful anti-gay culture is no-way a bore. In fact, it is often amusing to see others with their eyes wide open looking at them holding hands, caressing each other in public. Well, I once saw these two amazing good looking fellows in a cinema during the screening of the "Bird Cage" at Cathay Cinema, kissing each other at the end of the show. My girlfriend was absolutely horrified; she gave a loud, "YEEEEEEEEEEE". The couple just turned around and smiled, I was rely able to contain my laughter." "While working as a waiter in a gay disco, the most amazing things I see there further convinced me that gays are in fact financially in a better position than most "normals" to enjoy life. "Well, getting over $100 dollars on tips during Gay Nights is a norm for all waiters and bartenders. I mean, they spend like there is no tomorrow there, my boss often flashes his twenty four carat smile on Sunday nights when he hears his cash machine ringing to the pumping beat of the music. "I saw gays coming in wearing skin-tight super-short leather shorts, shocking pink dresses with a dog collar and chain, T-shirts with holes cut out on the centre revealing their chests, and other forms of amazing stuff too vivid to describe. The atmosphere was electrifying any one who says that gays do not have a social life should take a look at what I see every Sunday night."
Vincent's celebrates 11th anniversary
[
]
On 18 May 2000, Singapore's oldest East-meets-West gay bar (apart from the seminal Pebbles Bar), Vincent's Lounge, located at Lucky Plaza, celebrated its 11th annivesary. The owner, Vincent Thnay, published an anniversary message on the bar's website[61].
17th AIDS Candlelight Memorial held at Bras Basah Park
[
]
On Sunday, 21 May 2000, the 17th International AIDS Candlelight Memorial and Mobilisation was held at Bras Basah Park at 7pm[62]. 11 religious representatives from the Inter-Religious Organisation of Singapore officiated at the event. The theme of the evening was "Create Hope, End Discrimination" A Candlelight Memorial Party was also held on Sunday, 21 May 2000 at Venom disco at Pacific Plaza from 9.00pm onwards. A performance called "Heartstrings : The Show" started at 11:00pm. The cover charge for men was $20 while it was $25 for women as it was gay night. A portion of the proceeds went to Action for AIDS.
Buddhist conferences discuss homosexuality
[
]
On 3 and 4 June 2000, the Y2000 Global Conference on Buddhism was held at Orchard Hotel[63]. One of the lectures in the conference was "Buddhist Ethics and Life's Difficult Issues: Abortion, Euthanasia, Suicide, Species Preservation, Homosexuality, Prostitution by Ven. Ajahn Brahmavamso, an Australian monk. The conference fee was $180 and its website was at: http://homepages.infoseek.com/~bgfs/conference.htm During the conference, Kelvin Wong introduced himself to the audience of over 700 people as a homosexual male who ran a gay Buddhist fellowship. Wong received warm applause after he put forward his questions[64].
On Friday, 9 June 2000, Sri Lankan Buddhist monk, Ven. Prof. Dhammavihari held a talk entitled "Questions about Homosexuality" from 7:30 pm to 9:30 pm at the Buddha Dhamma Mandala Society, 567A Balestier Road. Entrance was free[65],[66].
Sentosa imports ladyboy dance troupe from Phuket
[
]
On 9 June 2000, Lianhe Zaobao published an article by reporter Cui Jun saying that Sentosa's Fantasy Island would be bringing in the male cross-dressing Simon Cabaret dance troupe from Phuket in a bid to attract more tourists to Singapore which herself is devoid of any natural beauty[67].
New Paper publishes expose on gay cruising in gyms
[
]
On 5 June 2000, The New Paper published another in its long list of sensationalistic articles demonising the gay community entitled "Gym Horrors"[68].
Vice-principal jailed for touching another man's penis in public bathroom
[
]
On 7 June 2000, The New Paper reported that the vice-principal of a secondary school was jailed 3 weeks for touching the penis of a 23-year old man in a public bathroom at Sentosa[69]. It was noteworthy that Deputy Public Prosecutor Toh Han Li said that, "In cases where it is consensual and done in a private place, the minimum sentence is a few weeks." This meant that the law would prosecute and jail adult gay men even when they had consensual sex in private.
Asian Wall Street Journal publishes articles on gays coming out at work
[
]
On 16 June 2000, the Asian Wall Street Journal published an article on gays and lesbians coming out in the workplace in Singapore[70].
NUS lecturer publishes academic study on Singaporeans' attitudes towards homosexuality
[
]
On 22 June 2000, The Straits Times published the results of a study entitled "Gender differences and attitudes towards homosexuality" conducted by Dr. Vivien Lim, a lecturer at the National University of Singapore's Department of Organisational Behaviour. It had been accepted for publication in the Journal of Homosexuality, a US-based quarterly devoted to scholarly research on homosexuality published by Haworth Press. Lim's result contradicted those of the recent survey done by PLU and showed that most young Singaporeans held negative attitudes towards homosexuals and said that they would feel upset if they discovered that their child, brother or sister was homosexual[71]. Straits Times reporter Wendy Tan subsequently approached Alex Au for his views on the study:[72].
New gay sauna Rairua opens
[
]
On Friday, 7 July 2000, a new gay sauna, Rairua, opened at 118 Neil Road[73]. It was a business venture of Alex Au, together with several partners. (Read a review of the sauna's facilities:[74].)
Stephen Gately appears at Borders and Venom
[
]
In July 2000, Borders reported in its monthly magazine that openly gay ex-Boyzone member, Stephen Gately, would make an appearance that month at its bookstore to promote his debut single "New Beginning"[75]. Gately also performed at Venom disco on Friday, 21 July 2000[76].
Shenzi Chua launches New Urban Male
[
]
On Tuesday, 8 August 2000, openly gay entrepreneur and founder of New Urban Male, the chain of apparel stores tailored toward the taste of gay men, Shenzi Chua, launched NewUrbanMale.com, a website which billed itself as "the first online magazine for the genX men in Asia"[77]. It was a revamp of the previous e-zine MBMC (Male By Birth Man By Choice) at www.mbmc.net which had been operational for 2 years.
Tabloid publishes advertisement depicting gay marriage
[
]
In August 2000, newspaper Project Eyeball published an advertisement which showed 2 wedding cakes with 2 men perched atop one of them, an obvious depiction of gay marriage. The tabloid received a call from the Ministry of Information and the Arts (MITA) but the tabloid's editor said that he planned to run it again[78].
[

]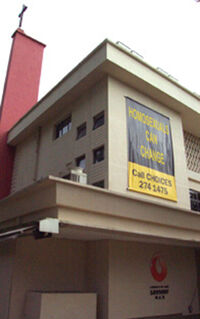 In November 2000, the Anglican, fundamentalist Church of our Saviour[79] (COOS) which runs the Choices ministry, a branch offering religious counselling for homosexuals seeking to change their sexual orientation, put up a large banner outside their church in Queenstown. It read, "Homosexuals can change". The sign was visible to everyone travelling on the MRT. It caused a furore within the gay community as they felt that it denigrated their worth and depicted being gay as something to be ashamed of and which merited "changing". To date, there had been no scientific evidence that a change in innate sexual orientation was possible and that much psychological harm and denial had befallen those who underwent such "therapy". They feared it would lead to more discrimination and homophobia. E-mails and petitions were sent to the church in protest. The media also took up the newsworthy lead and publicised the issue with press articles and radio interviews ([80],[81]). After several months, the church succumbed to widespread dissatisfaction and removed the banner.

See also
[
]